7 Tips on How to Format Your eBook to Make It Accessible for Screen Readers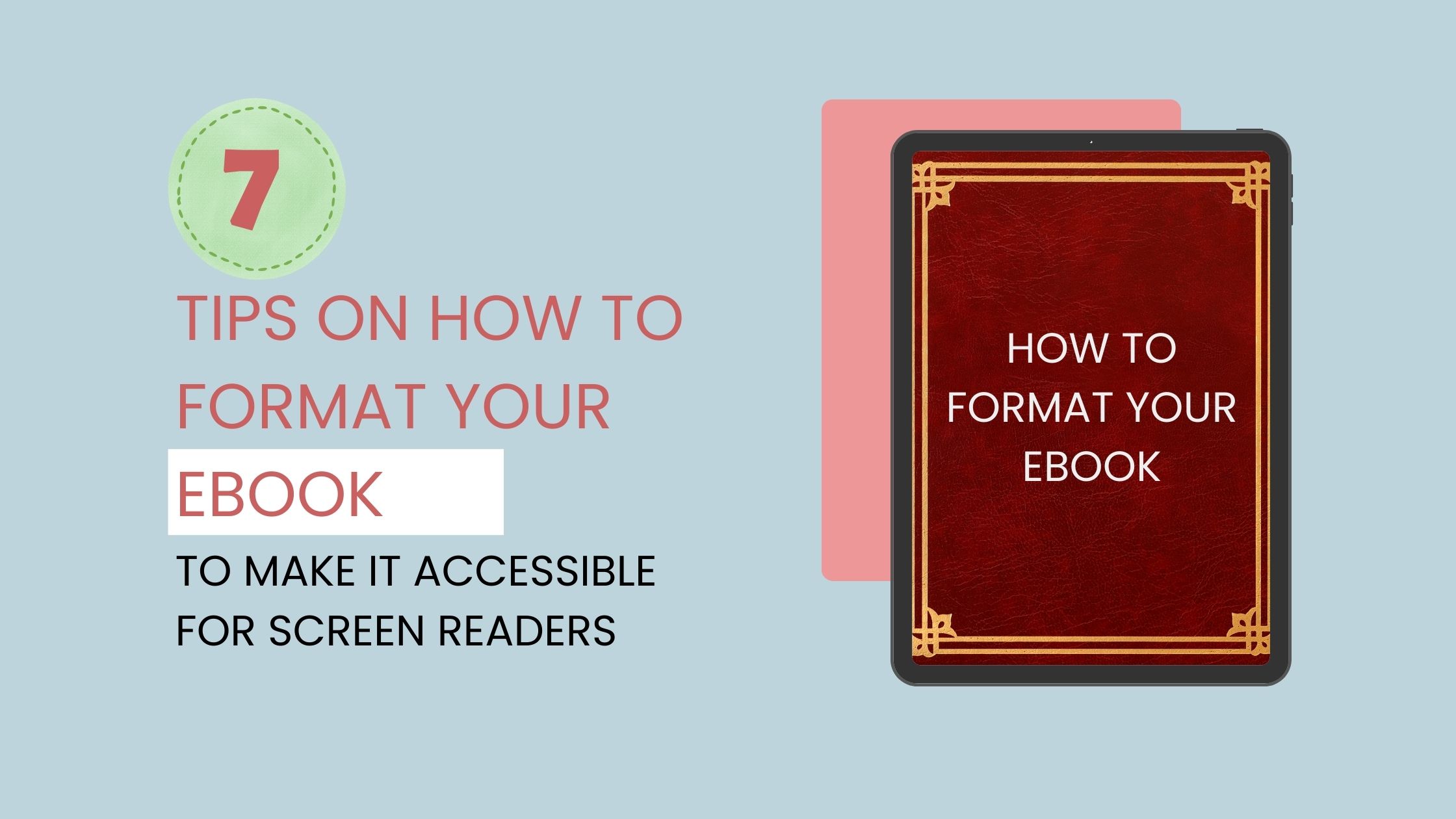 This is a contribution post by Seethalakshmi
---
In today's digital age, eBooks have become increasingly popular due to their convenience and accessibility. However, it is essential to ensure that eBooks are accessible to individuals with visual impairments. eBook design needs more care when designing for screen readers because screen readers rely on structured digital content, such as proper formatting, semantic elements, and alternative text for images, to accurately convey the content to users. Without careful design and implementation, screen readers may struggle to interpret the eBook's content correctly, hindering accessibility for individuals relying on these assistive technologies.
So in this article, we will explore effective strategies and techniques for formatting your eBook to ensure it is compatible with screen readers, making it accessible to a wider audience.
Use Structured Formatting
Screen readers rely on the structure of the content to provide a seamless reading experience for visually impaired users. Ensure that your eBook is structured correctly, utilizing appropriate headings, subheadings, paragraphs, and lists. This structure allows screen readers to navigate through the content efficiently, enabling users to understand the organization and flow of the text.
Provide Navigation Aids
Include navigation aids in your eBook by incorporating a table of contents at the beginning of the eBook, allowing users to navigate directly to specific sections. Furthermore, implement internal hyperlinks within the eBook to enable users to jump between chapters or sections effortlessly.
Use Page Breaks
Page breaks ensure that screen reader users can easily distinguish and navigate between different sections or chapters in your eBook. By inserting page breaks at the end of each chapter or major section, you provide clear markers for screen reader users, enabling them to jump directly to specific locations in the content. Page breaks also help maintain the overall structure and organization of your eBook, ensuring a seamless reading experience.
Implement Descriptive Alt Text
Images are an integral part of eBooks, providing visual context and enhancing the reading experience. However, for visually impaired readers, images are inaccessible without proper description. Include descriptive alternative text (alt text) for all images in your eBook, providing a concise and accurate description of the visual content. Screen readers can then convey this description to users, enabling them to comprehend the context and significance of the images.
Ensure Clear and Consistent Language
Using clear and concise language is essential for all readers, but it is especially important for individuals relying on screen readers. Avoid using overly complex or technical language that may be difficult to understand. Additionally, strive for consistency in your language and terminology throughout the eBook. This consistency helps screen reader users navigate and understand the content more easily.
Consider Text-to-Speech Compatibility
Screen readers typically rely on text-to-speech technology to convert written text into spoken words. To optimize the reading experience for visually impaired users, choose eBook formats that support text-to-speech compatibility, such as EPUB or MOBI. These formats allow screen readers to accurately interpret and vocalize the content, making it accessible to individuals with visual impairments.
Test and Validate Accessibility
Before publishing your eBook, it is crucial to test its accessibility with screen readers. Conduct thorough testing using popular screen readers software, such as JAWS or NVDA, to ensure that all elements and features are accessible and functioning as intended. Additionally, validate your eBook against accessibility standards, such as the Web Content Accessibility Guidelines (WCAG), to ensure compliance and optimal accessibility for all users.
In conclusion, by following the guidelines mentioned above, you can format your eBook in a way that is compatible with screen readers, allowing visually impaired readers to enjoy your content. By embracing accessibility in eBook design, you can create a more inclusive digital environment for all users.
---
Seethalakshmi is a bilingual poet and translator. Her writings have appeared in Inkspire, Women's Web, Gentleness Ambassadors, Great Indian Anthology, and Kids Book Cafe. She also dedicates her evenings to tutoring Math, ensuring her academic knowledge remains up-to-date. She blogs exclusively on Poetry at www.promisingpoetry.org whereas she shares her life musings at www.sustainablelearnings.com.
Follow her on Twitter: @PoetryPromising and Medium: @Promising Poetry
---