Greatest Indian poets of all time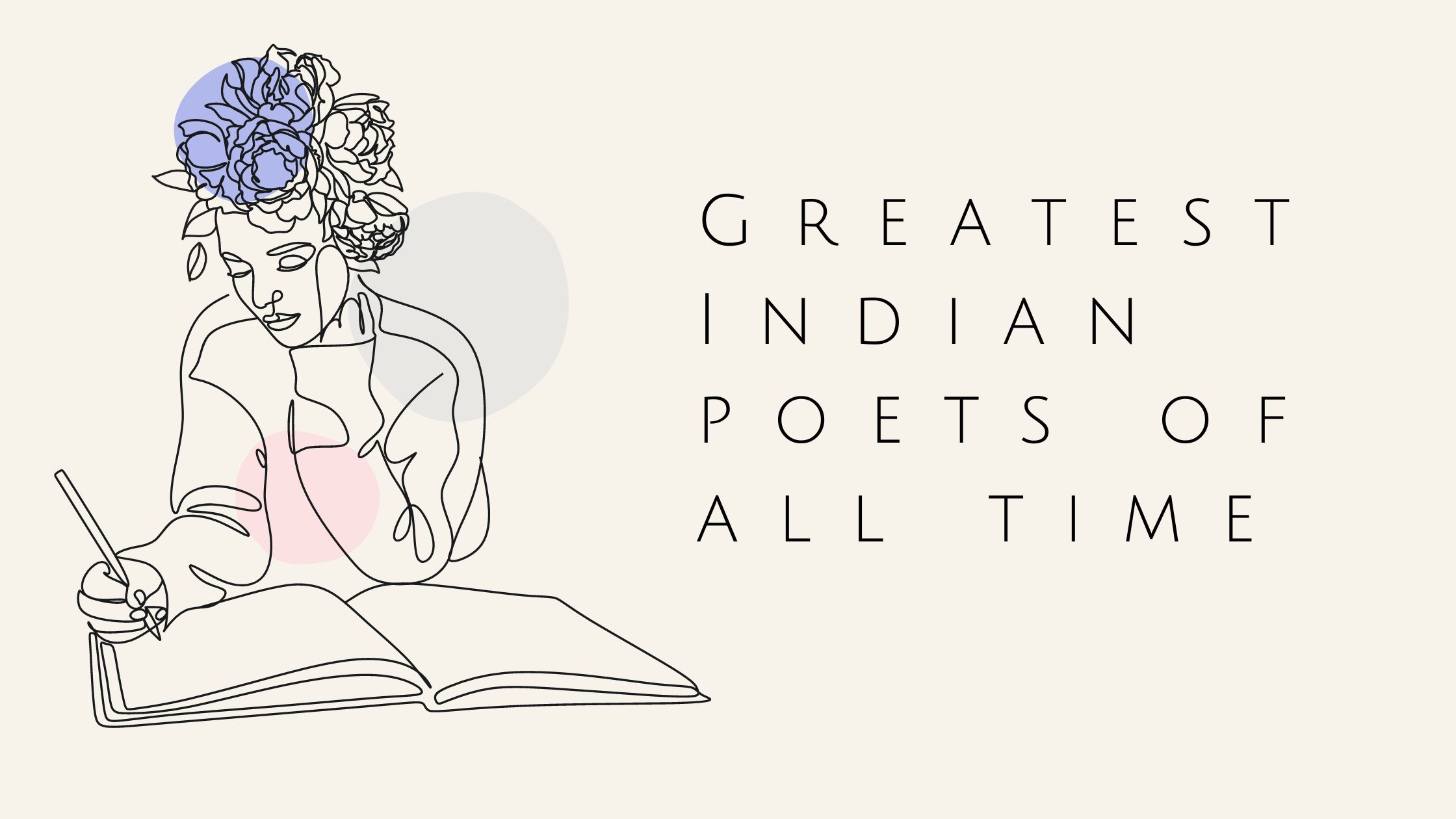 To explore the great poets of Indian history is to experience a rich tapestry of voices and styles. Across centuries, poets have sought to capture the music of India from steady rhythms to fantastical stories, from lyrical perspectives to grand epics all in expansive and often unexpected forms. In this article, we'll be exploring the legacy of five of India's greatest poets. These distinct individuals have helped shape the history and culture of India for generations, offering unique musical expressions (both written and spoken) and inspiring others with their timeless works. So without further ado, let's take a closer look at the five greatest Indian poets of all time!
Mirza Ghalib – The Grand Master of Urdu Poetry
Mirza Ghalib is undoubtedly the grand master of Urdu poetry—and widely regarded as one of the most influential artists in India's history. Born in Agra in 1797, Ghalib's works reflect his deep understanding of Indian culture. In unparalleled pieces such as "Bazeecha-e-atfaal hai duniya mere aage," he wrote with real insight into the nuances of life. He was particularly well known for his insights on love, which combined passionate emotions with a deep appreciation of nature. Ghalib's works explore complex issues of love and sorrow, which is why his poems are remembered and loved even today.
Rabindranath Tagore: Indian Nationalism & the Nobel Prize
Rabindranath Tagore is arguably the most famous name in Indian poetry. His Nobel Prize in Literature, awarded in 1913, made him the first Asian to win the prestigious honor. A prolific poet, playwright and novelist, Tagore was a beacon of consciousness who captured the essence of Indian nationalism in his works. He wrote some of Indian literature's most iconic poems such as "Where the Mind is Without Fear" and songs such as "Jana Gana Mana", which later became India's national anthem.
Kazi Nazrul Islam: Revolutionary Bengali Poetry
The third poet on our list could not have come from any other place than Bengal—Kazi Nazrul Islam. A Bengali Muslim, Kazi was a master of music and words, credited with writing over 3,000 songs and poems. His works are characterized by passion, fire, and revolutionary themes that made him an idol for those seeking freedom from British Raj.One of the most important aspects of Kazi's works was his use of folk idioms from the Indian subcontinent. He used Bhishti bhasha (Vernacular Persian), Urdu and Hindi to craft war ballads and revolutionary laments that remain popular even today in India and Bangladesh.
Sarojini Naidu: Nightingale of India
The fourth greatest Indian poet of all time is Sarojini Naidu, who's known as the Nightingale of India. In addition to a prolific poet, she was also an independence activist and served as the president of the Indian National Congress at one point. Her style was unique in that she wrote on a wide variety of topics, ranging from nationalistic poems to romantic verses. She wrote in different languages, including Urdu, Bengali and English. Her most famous poem is "The Gift of India", which celebrates India's diversity and beauty. Other works such as "In the Bazaars of Hyderabad" and "The Broken Bangles" have also become beloved classics in both Hindi and English literature circles alike.
Nissim Ezekiel & Contemporary Indian Poetry
The fifth on our list might come as a surprise to you—Nissim Ezekiel [1920-2004], is one of the most influential modern poets in India. Originally from the Indian state of Gujarat, Ezekiel changed the course of poetry by blending Indian heritage with traditional English poetry. His work inspired others to create meaningful and original works that went against the grain of what was popular at the time. His most famous works include "The Night Of The Scorpion" (a poem about faith) and "A Time To Change", (a love poem). But his influence does not stop there—Ezekiel has left an indelible mark on Indian literary history, as well as on contemporary poets such as Arun Kolatkar, Jayanta Mahapatra and Meena Alexander who continue to be inspired by his pioneering efforts.
From Vedic Sanskrit to Urdu, the Indian Subcontinent is home to a rich and vibrant history of poetry that has spanned centuries. From the poignant and heartbreaking verses of Mirza Ghalib to the deeply spiritual words of Kabir and Nanak, their works are timeless and will continue to inspire and move generations to come. As you reflect on their works, let their words remind you of the power of poetry to bring people together and ignite a passion for understanding and compassion.