Meet Vidhya Thakkar: Paving the Way for Literary Influence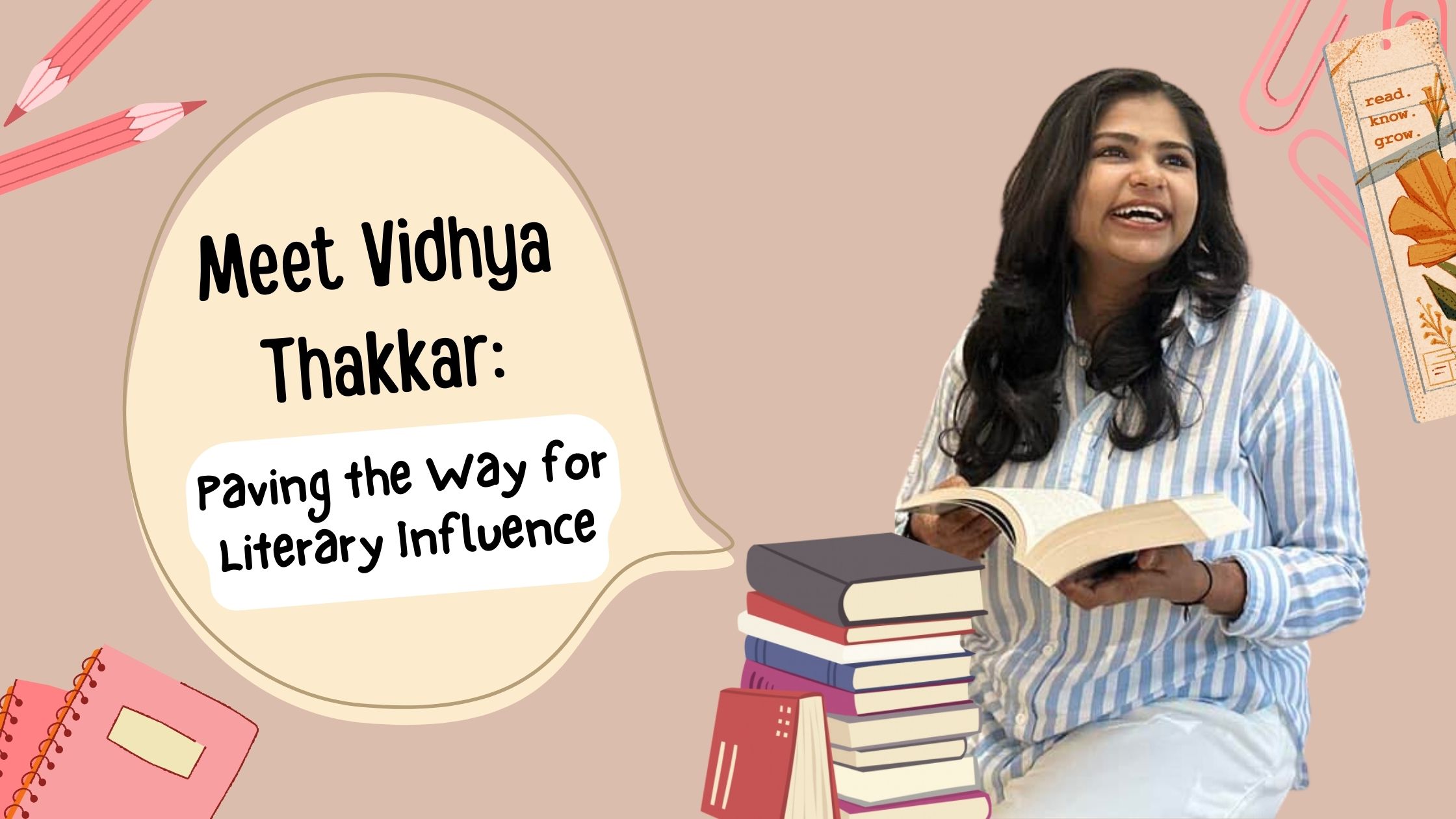 Meet Vidhya Thakkar, a dynamic force in the literary world and our community! As a brilliant book blogger and social media strategist, she's earned her rightful place among the crème de la crème of Indian literary influencers. Vidhya's expertise shines through as she has collaborated with over 700 esteemed authors, renowned brands, and top-tier publishers in India, ensuring their marketing and promotional endeavors reach new heights.
With her unparalleled dedication and unrivaled creativity, Vidhya is a true trailblazer in the realm of books and beyond. As she completes 6 years of book blogging, we had a chance to speak to her. Here's a glimpse of our conversation. Let's go!
Let's start with your early days. What are your first memories of reading? What was your favorite book as a child?
They always say breakup with your best friend hurts the most. My reading started after I parted ways with my best friend. I found solace in Books. I was introduced to books by an uncle who has a streetside bookstall. He gave me few books to read, and little did I know, I was there almost every next day as I would finish a book in a day.
The first two books that I read were, The one you cannot have by Preeti Shenoy and The Secret.
Do you have a reading ritual? And what is the book that is sitting on your reading desk right now?
Well, I try to read at least more than 50 pages in a day. I am about to start Multibagger stocks by Prasenjit Paul.
Tell us about your reading habits. Paperback vs Hardback, Ebook vs Audible, your preference?
When it comes to reading habits, I like annotating the lines I love.
Paperback,
Ebook.
How was your transition from a reader to a book reviewer? What was your inspiration to take up this unique role of a book reviewer?
Well, it just happened. I did not expect things would turn out this way. I just started adding reviews of the books I had and received love on social media. Being a blogger since 2014, I had an active blog with good views, I just added reviews there, and reader_viddh was born on Instagram.
When it comes to inspiration, well, there is no one. Reader_viddh account for me was my place to express everything I felt. Even today, when I feel chaotic, I always remember the reason I created this account.
Do you rate books? If so, what's your book rating/reviewing system like?
Yes, It's out of 5. I focus on the storyline, characters and how well-developed the plot is.
You can check here.
What information do you expect when an author or publisher approaches you for a book review?
I need complete details of the book and the promotional activities they're looking for.
How can a reader benefit from reading your book review? How do you keep your reviews spoiler free?
I try to write review from reader's perspective with a thought that they can make a buying decision just by reading the review. I try to keep my reviews honest and to the point.
What are some of the challenges you faced, if any, on your journey as a book reviewer and bookstagrammer? Was the ride smooth?
A ride can never be smooth. I too had my own ups and downs. People questioned my writing style to doing many giveaways. But then, I learned the lessons and kept myself away from the negativity, not letting it affect my work.
Do you think reading and book reviewing has changed over the years? If yes, how? Has bookstagram affected the way you read and review?
Yes, reading and reviewing has changed a lot. Now it has become more competitive rather than sharing the joy of reading. Coming to my reading and reviewing. I have evolved with my style I would say. I still read, what I like to and pick up projects that I am interested in.
For me it's about enjoying my work, rather than doing it just because everyone else is doing.
How do you receive ARCs and review copies? Advise the aspiring book reviewers of our community.
You need to have patience and grow your account first. You can write to publishers, to their publicity team sharing your stats and account details. Have patience and wait for their reply.
In conclusion
From her early days finding solace in books to becoming a trusted reviewer, Vidhya's passion for literature shines through in her work. Her transition from reader to reviewer was organic, driven by the love and support she received from the online community. With a genuine desire to share her thoughts and experiences, her reviews provide valuable insights and help readers make informed decisions.
As she embarks on new adventures in the world of books and beyond, her dedication to promoting authors and sharing the joy of reading remains unwavering.