The three elements of kindness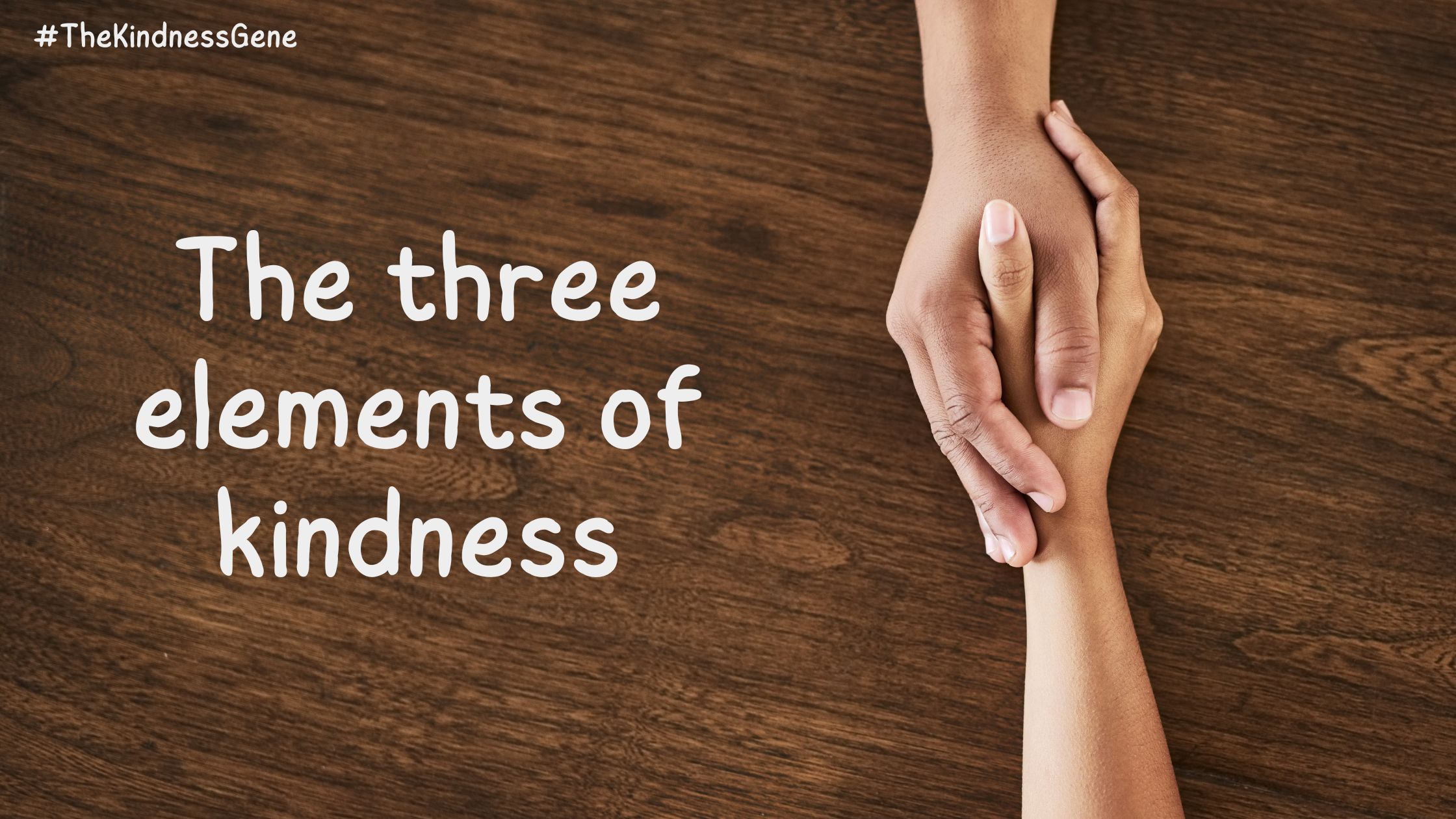 We always hear elders telling or rather advising us to be good, be nice, and help others right from a young age. It's no different from telling us to be kind to others. Just different words that convey the same meaning. It is in fact the core value of the society our ancestors have built.
Kindness comes in all shapes and forms and may hold different meanings to different people.
Every day we witness an act of kindness everywhere around us that impacts us in some way or the other- to reciprocate, introspect or simply pique our curiosity to learn more.
In addition to promoting kindness, we must also dig deeper to understand the motive or the factor that drives us to do something out of goodwill. 
What is that motive? Kindness is an innate quality that we genetically possess. We're born with it and that's the main motive driving us to be kind.
However, it is not uncommon for people to overlook the important elements of kindness.
What are these elements, or rather the recipe for kindness? Interestingly enough, some of the most important factors are the ones we don't think enough about or don't give enough attention to.
Loyalty
Loyalty is instinctive. It is a product of nature, nurture and life experiences. Often forgotten, always true: Loyalty is an emotion. We show strong support for someone or something because our instinct tells us it's the right thing to do. It is a natural action from most of us, but it's still important to be made aware of it from time to time.
Honesty
A loyal person will value honesty above everything else and this is the primary trait. Honesty is widely accepted as a prime example of a moral virtue. Honesty and transparency require very high levels of emotional intelligence. True intimacy requires comfort with emotional vulnerability. While we are born without biases, we take on what we learn from our surroundings and our culture is very far from being comfortable with emotions. Hence unlearning and relearning helps us recall how honesty is a value we're all familiar with and are capable of adapting into our lives.
Respect
Respect means that we accept somebody for who they are, even when they're different from you or you don't agree with them. Respect in our relationships builds feelings of trust, safety, and wellbeing. If we don't fully respect someone, then kindness can be a difficult thing to achieve. German philosopher Immanuel Kant argued that respect is a fundamental moral obligation.
'Respect' towards others means treating everyone and everything with care. The golden rule is to treat others the way we would like to be treated- something we've grown up hearing from our parents, teachers and the moral stories we read, watched, etc.
Communication
How can we forget this aspect? Keeping in touch with others and effectively communicating is an important part of being kind. Not just casually talking to someone, but checking in with them often and making sure everything is going well in their lives.
Honest, clear communication is free from biases, is concise, focusing on what's important. Clear communication will lead to lesser problems, more compassion, and better connection with people in our personal and professional lives.
Final thoughts
Researchers found that while parents can help encourage their children to develop into responsible, conscientious adults, incorporating values, there is an underlying genetic factor that influences these traits, as well. Values are transmitted to children not only from the way parents act, but also partially through their genes.
Everyone has values, but each person has a different value set. These differences are affected by an individual's culture, personal upbringing, life experiences, and a range of other influences. Personal values are desirable to an individual and represent what is important to someone.
There are many other elements of kindness, but these are just a few of the common ones that people often forget or don't pay enough attention to. By being aware of how you're acting toward others, it is easier to choose kindness and build stronger relationships. The little parts of life can sometimes be the most important when it comes to being nice to other people. The same kindness we inject into the world will certainly be returned to us tenfold. The elements that make up kindness are attractive qualities definitely worth flaunting, and why not? We're born with them!
These elements together make up kindness, and a larger part of them are inherited, but nurturing them consistently is an active choice we get to make everyday, reminding ourselves of our superpower- #TheKindnessGene.
"Unexpected kindness is the most powerful, least costly, and most underrated agent of human change." – Bob Kerrey.
Kind People. A kinder World. Check out what the community has to say.