Types of Lovers based on Zodiac Sign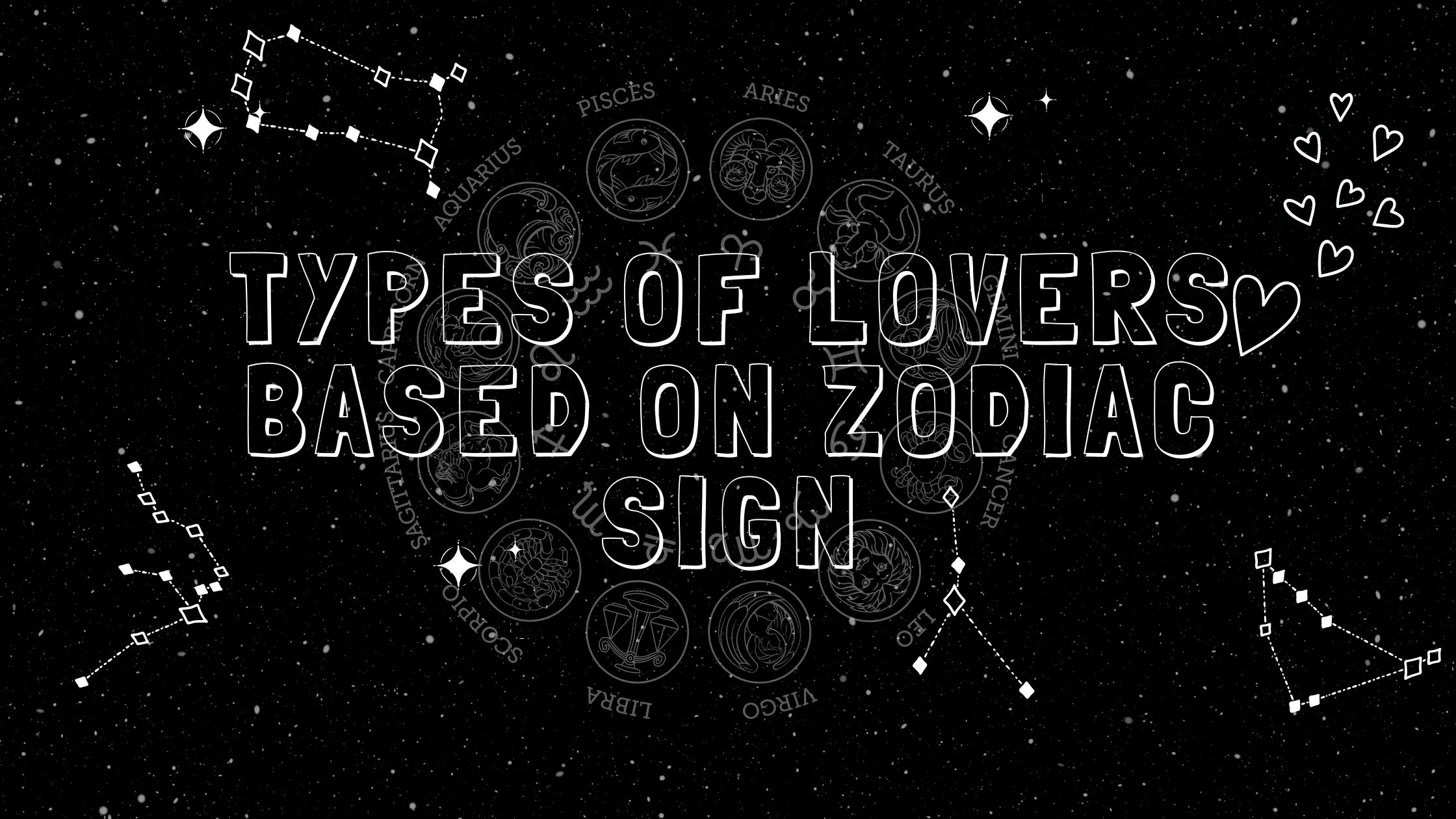 It's that time of the year *squeals*. For all who are looking for love, already in love, or thinking of expressing your love, what are you waiting for? Go on, execute all your silly, over-the-top, or fancy plans to make your soul mate into your twin flame.
But wait, before you go all gaga over planning your special day with your special someone, here is a small twist, or shall we say food for thought. What kind of lover are you? Eros? Agape? Mania? Ludus?
Before that, being the nosy person that we are, let's make some fun predictions about your love life based on your zodiac sign, shall we?
Pick the best match for you!
AQUARIUS: JANUARY 20—FEBRUARY 18
The title of the most independent lover goes to none other than Aquarius. You try to be extremely creative and innovative, showing off your individuality. In contrast, such a softie on the inside. Even small acts of love make your heart swell. When it comes to relationships you take your time to define them. Just in case, to be sure.
PISCES: FEBRUARY 19—MARCH 20
Waiting for your prince charming? Just like Jack in Titanic, you are a dreamer, passionate and intuitive person. When you fall for someone, you fall head over heels for them and stick with them no matter what. We are talking about true romantics. Where are you, Romeo? Juliet is waiting for you.
ARIES: MARCH 21—APRIL 19
A little stubbornness won't kill anyone for sure. You can never stay silent about your love life. You are never afraid to make the first move and go all out to impress the person, constantly showering them with your love. Simply put, a no-nonsense lover. None given, none taken!
TAURUS: APRIL 20—MAY 20
A realist but always spoil the person you are in love with. Taurus, being ruled by Venus, goddess of love, you are all for love, sex, beauty, and romance. Not to mention, you love a bit of luxury. Also, a heads up for your partner, be prepared to share a great physical relationship. Naughty much.
GEMINI: MAY 21—JUNE 20
You are the social animal of the group. You are a chatterbox and tend to be flirtatious with people sometimes. This might be uncomfortable for your partner. Being the fun-loving person that you are, it's best for your partner not to take your antics seriously. Who doesn't want a Rahul from "Kuchh kuchh hota hai"?
CANCER: JUNE 21—JULY 22
As a Cancerian, you think with your heart, unlike other humans. This does make you special. But jokes apart, you seek an emotional connection with your partner. Once you love, you love hard. Watch out, not to get heartbroken. You don't have to fill the role of the next Devdas.
LEO: JULY 23—AUGUST 22
The hyper-excited teenager, who might be dramatic at times. You are also kind and sometimes very protective of your partner. And you are the biggest fan and support system of your loved one. You live life vivaciously. What else could a person look for in their romantic relationship?
VIRGO: AUGUST 23—SEPTEMBER 22
The over-thinker or the intelligent brains of the group. You do everything in a pin and proper manner following all the right steps including courting. A perfectionist to say the least. So, your way of love is also different. But on the other hand, you have quite high expectations which might not act in your favor all the time. Let's tone down a bit, shall we?
LIBRA: SEPTEMBER 23—OCTOBER 22
You ooze charisma and enjoy a good flirt. You just love being wooed by your lover and some cute gestures and antics. You are very sharp and looks don't matter as much until the person is good inside. As you are ruled by the planet of love, you are the ultimate romantic partner.
SCORPIO: OCTOBER 23—NOVEMBER 21
Having the sexiest zodiac sign, you are a passionate, erotic, and intense lover. Being honest to a fault, once you know you are in love, you will never waste time beating around the bush and fight head straight. But there is no break according to your dictionary, once in then there is no turning back.
SAGITTARIUS: NOVEMBER 22—DECEMBER 21
Being an honest and adventure-seeking person, your life will be exciting. You wear your hearts in the sleeves and be committed to the person till the very end. You are very much happy to explore and experience life with your partner. Because of the travel genes, you could be a little hasty in nature but don't worry your philosophical side will balance it.
CAPRICORN: DECEMBER 22—JANUARY 19
Ruled by Saturn, you are the ideal responsible and duty-bound partner. You come with a lifetime certificate, as you follow a traditional route to love, and you dive deep only with certainty. Even though you have a cautious sign at the beginning, once you warm up to that person, then you are a free spirit.
What's your zodiac sign? Share this post on socials, telling us one fact about yourself 🙂