How a single housing complex collected and contributed to recycling of almost 23000 kgs of plastic waste!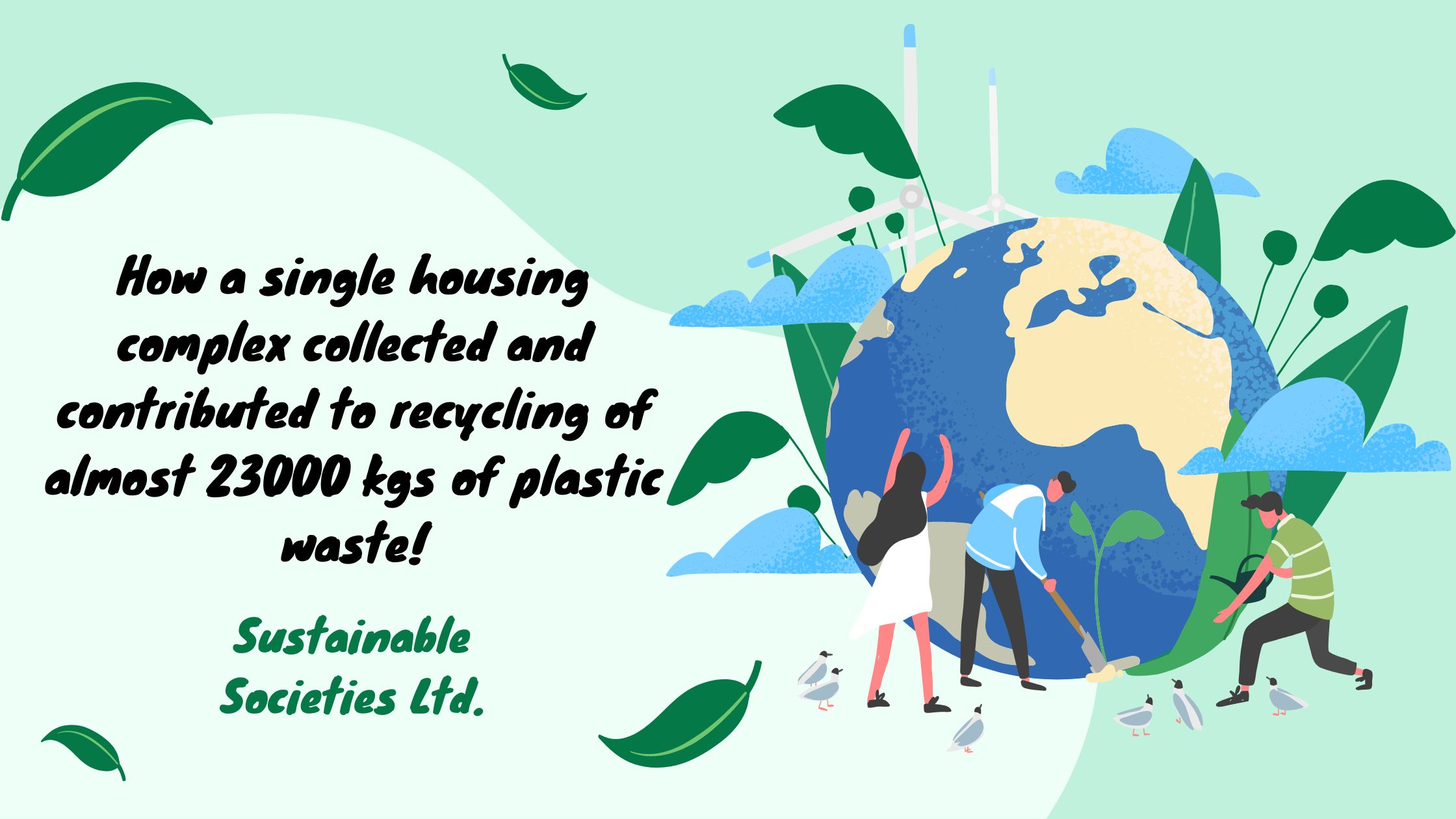 This is a contribution post by Anushree Saha
---
Here is a success story of a complex of 11 buildings in Sea Woods, Navi Mumbai which transformed plastic waste collection together with the help of multiple stakeholders and are still going strong!
Let's learn how to take a step towards becoming a sustainable society from the best.
We often contemplate as to how we can contribute towards a better environment and do our bit. Plastic when thrown directly into waste and not recycled, ends up in our water bodies causing pollution and indirectly harms us in return.
It all starts with a desire, a desire to bring about change and then work towards it. Dr. Banani Saha, a dental surgeon by profession, is one such concerned resident of Seawood Estate CHS, NRI complex, Phase 2, Navi Mumbai, who saw the potential of collaboration for sustainable management of plastic waste, in her area. She read a WhatsApp forward about Bisleri's Bottles for Change- Plastic Recycling Initiative sent by a patient and contacted them to take it further.
With a unified aim of spreading awareness about the importance of recycling plastic waste among citizens and ultimately reducing plastic usage, ripples of change were created by Dr. Saha and few other like-minded concerned residents. Consequently, till 31st August 2022, the society has achieved the collection of 22969.6 kgs of plastic waste for recycling!
This is the story of individual endeavour along with efforts from similarly driven fellows which can create an environmental transformation, without many tools or extensive resources. As it is rightly said,
"Every tonne of plastic that is segregated and recycled, is that much less plastic pollution in the oceans and landfills."
INITIAL PROCESS
Dr. Saha contacted Bisleri, NMMC and the associated NGO via the helpline number provided in the message. The discussions were only on calls for about a month due to Covid lockdown period and she started doing her own research and development.
In the 3rd week of July 2020, the main process began. It firstly involved the procurement of all the necessary official authorization letters from the governing body NMMC to start the initiative in the society, participation letters from Bisleri & NGO and sending out copies of the authorization letters to Bisleri & NGO to carry out this initiative. Finally, the initiative started in their residential complex.
THE PROCEDURE
The process starts with self-cleaning of plastic waste and segregation into hard and soft plastic, as seen below: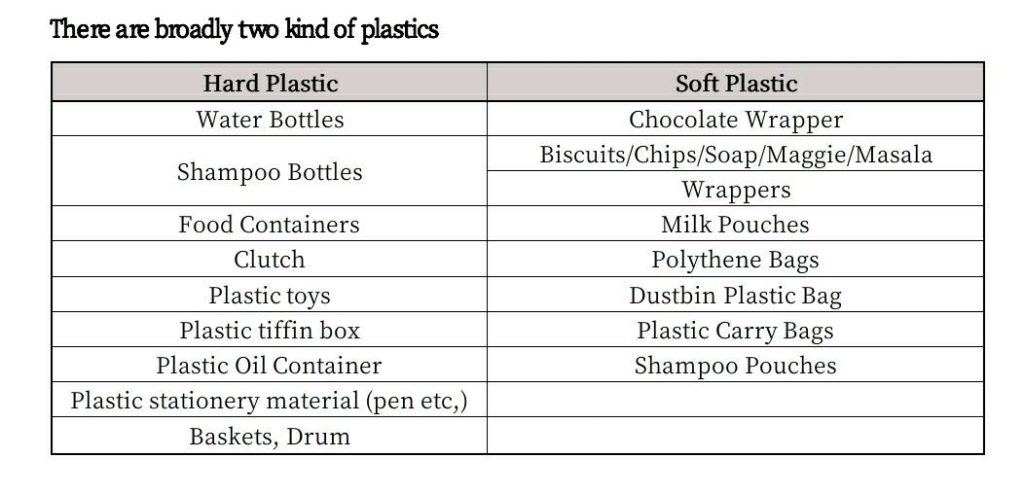 NMMC provides dustbins for wet and dry waste and storage bags for plastic waste are provided by the society itself, which is kept in the lobby of every building. The week's collection is then kept in storerooms and transferred every Tuesday to the Bisleri van, accompanied by the NGO staff.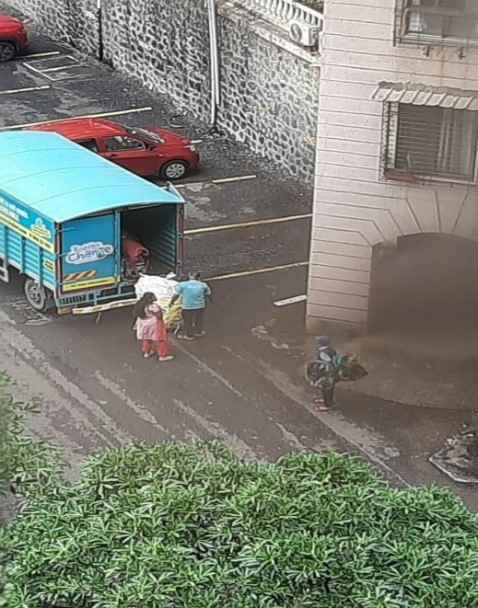 STAKEHOLDERS
A large-scale project like this needs immense manpower and this is where the housekeeping staff came in. A meeting of all the housekeeping staff , Manager and Security Manager (20 to 25 of them) was called, maintaining all Covid protocol. They were briefed about the correct ways of plastic collection, segregation & storage from all the buildings in the complex, till the time it's picked up by the NGO- Stree Mukti Sangh.
The Housekeeping staff weighs the bags separately for each building and a register is maintained of the total collection. To prevent any siphoning off of plastic waste and to ensure a transparent process, Dr. Saha conducts a meeting every 2 months with the staff including the security personnel. A record is maintained on the Bottles for Change App which is continuously tallied with the amount exiting the residential complex gate. Thus, a leak-proof process is achieved. The NGO collects, rechecks, segregates & transfers it to Bisleri, who further recycle it. The compensation amount received is distributed among the housekeeping staff.
The residents of the complex gave an overwhelming support and help to Dr. Saha with their time, energy and suggestions. The Society WhatsApp group became their medium of connection and continues to be so. The residents also provided valuable suggestions and graced their presence whenever needed without which it would have been impossible to make this initiative a success in the society.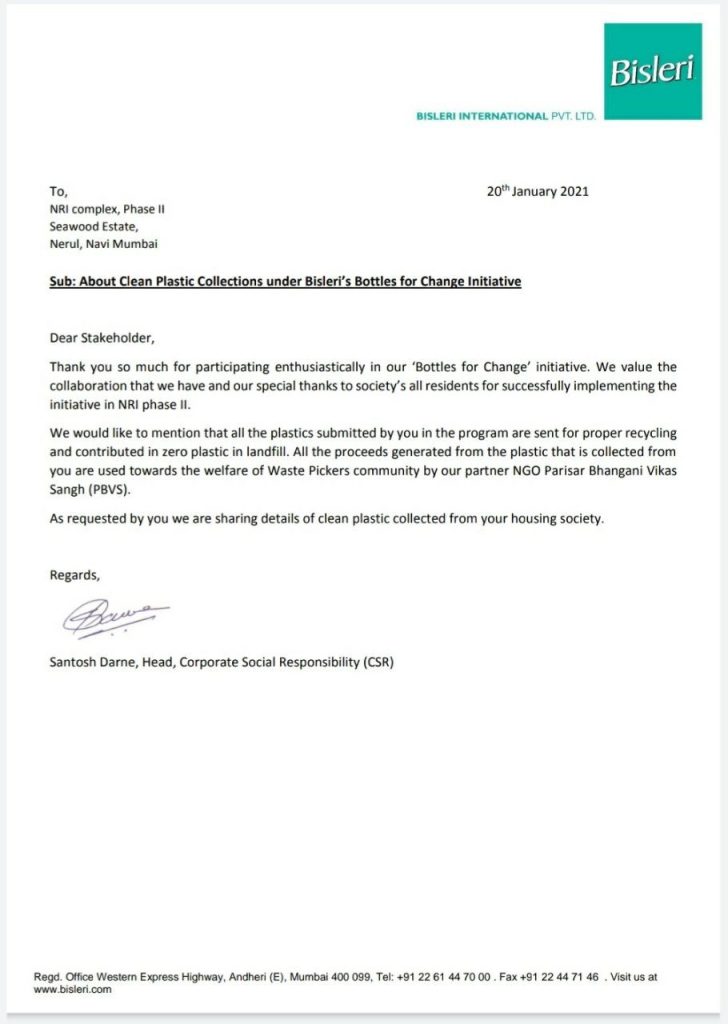 WHAT HAPPENS AFTER RECYCLING?
The plastic collected is crushed into fine flakes which are then used to create non-edible products such as – Cloth fabric, Benches, books, bags, laptop cover, stationery items etc.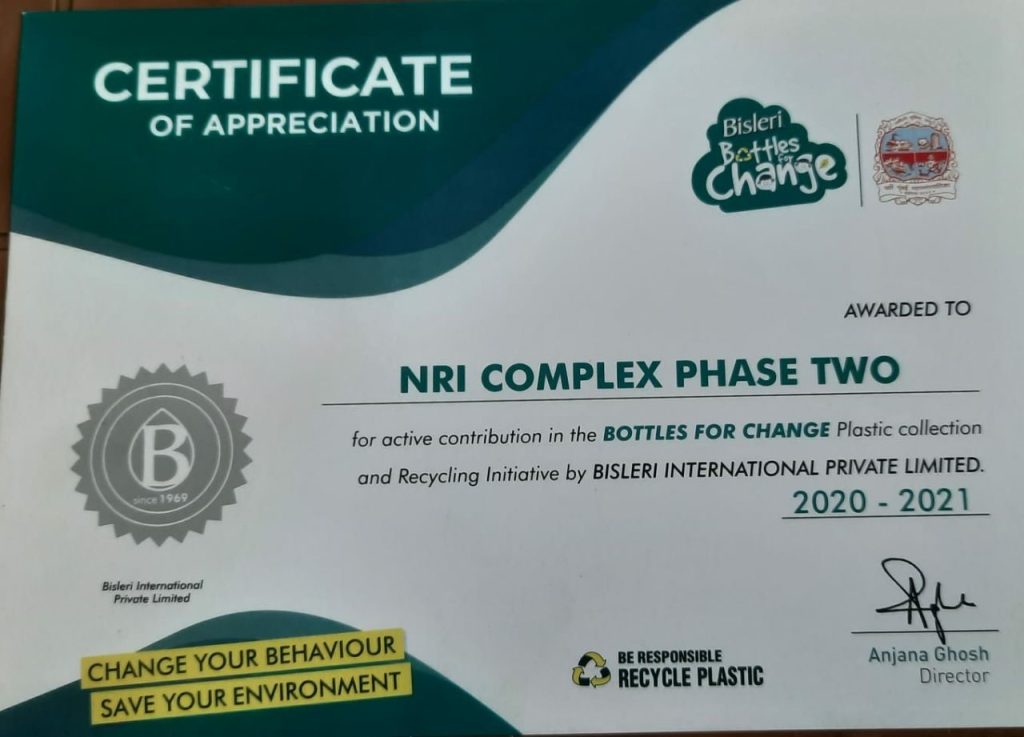 WHAT'S NEXT?
The residents have now expanded their climate consciousness to collection and recycling of cardboard boxes, cartons and wood waste, which have increased exponentially in recent times. Dr. Saha also successfully conducted donation drives by providing a stall to the NGO during the Ganpati Festival, collecting books, clothes in good condition, e-waste, re-usable utensils etc for the disadvantaged families.
WHAT CAN YOU DO?
As an environmentally aware citizen, you can clean or rinse the plastic after use, store the plastic separately and hand it over to the plastic agents (Kabadiwalas).
The process can seem daunting but if everybody comes together and does their part individually, it is the best thing you can do for the planet. This is just one of the many stories across India who are trying to follow a sustainable lifestyle. It might seem like a small step but collectively it makes a huge difference.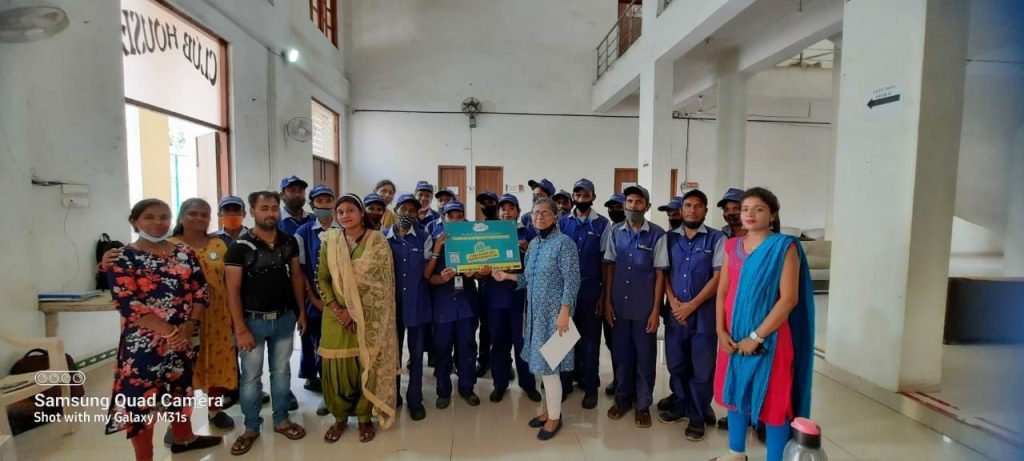 If they can, so can you!
To know more about the initiative, you can:
Contact: drbananisaha@gmail.com Visit: https://www.bottlesforchange.in/
---
Anushree Saha aka My Word Bubble (blog) is an avid reader, writer and knowledge-seeker from Mumbai, who believes herself to be a Philomath- a lover of learning. She is a freelancer, book blogger, poetry, art and journaling enthusiast. Her poems have been previously published in anthologies such as Carnations, Beyond Life, Anika and Little Love notes. Also, an Amazon Verified Influencer, you can explore her bookish world further on Instagram.
---
If you want to share anything on a topic you care deeply for, send us your submission. Here are the guidelines. You can also be a part of CauseAChatter and have meaningful conversations around sustainability.