Does reading make us a better person?
Every one of us would have definitely come across a story or a character that has left an indelible mark in our lives. It could either be while watching a movie or reading a book or maybe while hearing a story from other people. The medium never matters. The format can never be a barrier. All that matters is the story, and the way in which it has been told. That's why fiction has the ability to affect a person in an elusive manner.
And It's simply great. Why?
Because think about it like this, you don't know the person who wrote the story or whose story is being told, what kind of person they are, what their life's been like or heck! not even if they are a good or bad person.
Literally nothing.
Though it seems to be the case, they take us in a wonderful journey as never before.
CHILDREN AND BOOKS
A lot of things could be said through a single book. There is always a story waiting to be heard (read in our case). Reading books from different eras and regions of the world, lets us be more appreciative of people with varied cultures, different experiences, world politics, and more.
Over the centuries, books have also been responsible for the changes we are witnessing right now.
Having said that, anyone can start reading anything at any age. But it does make a difference if you start out young. Learning this life skill can help children understand emotions and be more empathetic from a young age. Even, if not a storybook, a comic book could be a great choice. Books being a part of children's life could make a great difference, when they set out to face the world. It was rightfully pointed out by Simrit Bedi,
"The sooner you introduce books to your child the better it is. It is also an important life skill. Helps children build their imagination and be more expressive."
LIFE-CHANGING LESSONS AT FREE OF COST
Reading a story irrespective of the genre can transport us to a different world, through the eyes of various characters making us face the highs and lows of their emotions and the realities of life. That's why characters have the ability to hook us to the story. We indeed relate to some of them on a deeper level. Unconsciously, we also tend to imagine, how will it be to be that person, given such a situation will my choice be different from theirs, and constantly compare us and people we know with them.
Thus, reading a good novel can be an intensely personal experience, as characters, settings, and plots arouse our minds and, sometimes, hearts making us feel more empathetic towards people. It also gives us space to be someone we are not, become someone who we want to be, and experience the dark side of the moon.
Just like Aristotle said,
"The aim of tragedy, is to bring about a "catharsis" of the spectators — to arouse in them sensations of pity and fear, and to purge them of these emotions, with a heightened understanding of the ways of gods and men".
Here are few recommendations from our community.
"Reading Bukowski certainly shook me. My first reaction was whaaa… but then as I read more I realised it was the truth and the truth always challenges us to be better. #BookChatter" @literaryleha
"Can I please quote 3 books? "Old Man and the Sea", "Of Mice and Men" and "The Great Gatsby". They all held me by the scruff of my neck, shook me out of my complacency & taught me never to take for granted, the virtues of humility, gifts of friendship & confidence. #BookChatter" @Mimeticsian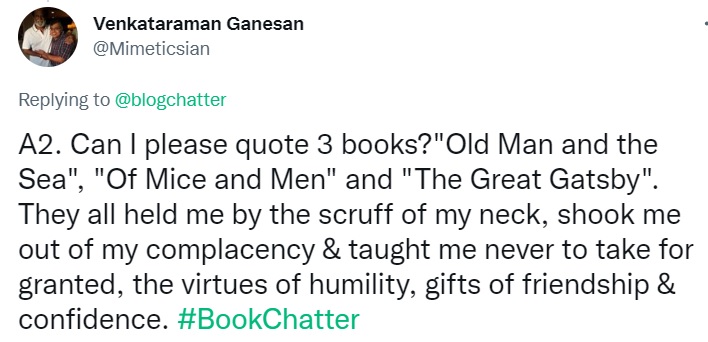 PROMPTS TO MOST CHANGE
Consuming fiction allows us to see the impact on our view of society as we forfeit ignorance, and also in making decisions on the totality of life, not just at the present moment but in the long run. It brings a change in attitude and a new perspective on life. Some stories, even inspire us to go the extra mile to achieve what we want in life. And also pushes us to fight for what we believe is genuinely right.
The ability to be closely tied to "openness to experience," lets us be more inclusive and sociable. It makes us want to be the best version of ourselves, to become much stronger, kinder each passing day.  
Some interesting answers from our tribe…
"When I read The Truth About Me: A Hijra Story. It's basically about the Hijra community and their traditions and rituals. I also read In Order to Live. Its about some of the history of North Korea #BookChatter." @talesOfsuchita.
"Pachinko helped understand about the Koreans in Japan, Island Of Missing Trees helped me understand the Cyprus Civil War; The Farthest Fields was great for knowing about Indians in British Army in WorldWar2 #BookChatter" @ashnhash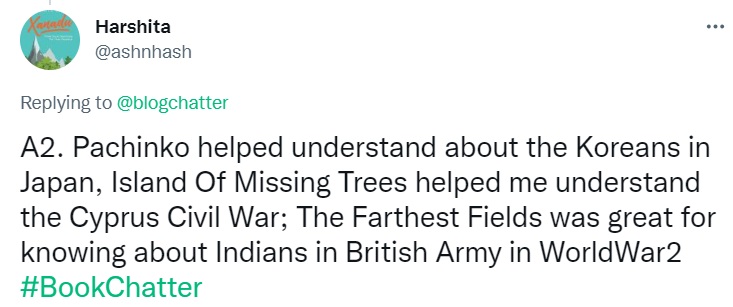 A DAILY DOSE
Now, even if you are a newcomer to the world of books, no issues. It's better to be late than never, right?
Read for yourself. Start with whatever is comfortable for you.
Even comics and web novels are good choices. At the end of the day, you should have fun reading. That's it. You might even take a liking to it. As said earlier, books have the ability to transport you to a totally different world, bombarding you with feelings you are not even aware of and letting you become this whole new different person.
So, why the long wait? Grab a book now! Maybe one from our very own Ebook Library.
Happy reading!! Cheers!!!
"If there is a beautiful, diverse, inclusive world, it's made of books. Devoid of hierarchy and pretentious. Where only the connection between you and words matter. Read everything. Read what makes you happy. You'll keep coming back. #BookChatter" @richasmukherjee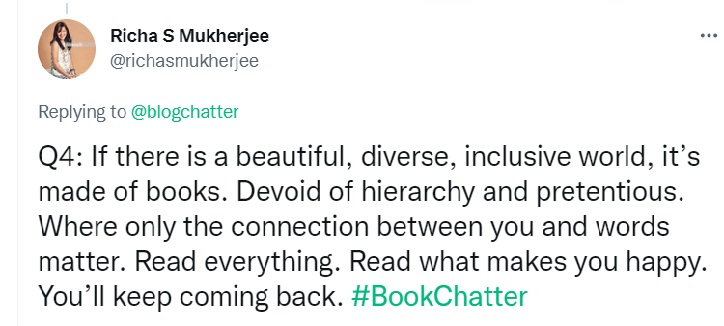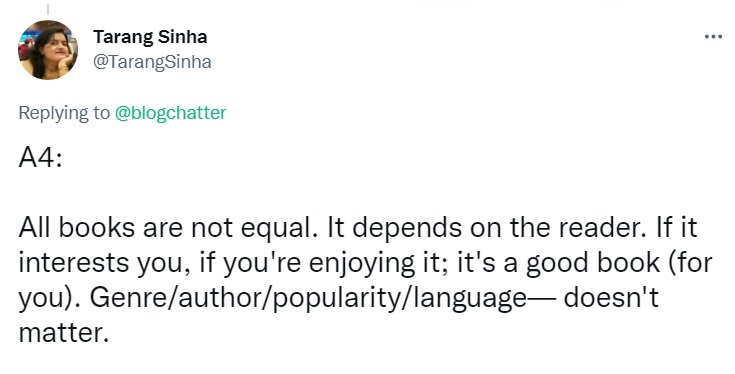 "All books are not equal. It depends on the reader. If it interests you, if you're enjoying it; it's a good book (for you). Genre/author/popularity/language― doesn't matter." @TarangSinha
You can catch the entire chat here.