Is the Southern film industry taking over Bollywood?
Be it then or now, films have always been one of the best sources of entertainment in human life. Watching a good film and feeling a surge of happiness is itself therapeutical. Yes, there are people who don't like films who would rather pick up books. Yet the craze for movies has only been increasing every year. They provide a form of escapism for people from their stressful life. The amount of time a person spends watching movies has for sure grown drastically. And talking about the fandom. It's just enormous. Sometimes it's even astounding to see humungous people going insane over a star or a movie. From the silent era and big screens to CGI and special effects. The transition the films had undergone during the past half a century or so has been phenomenal.
Until a decade ago it was nearly impossible to even download movies, not to mention watch a movie on mobile phones. However, now especially during the pandemic, everyone has an OTT platform subscription but not a daily newspaper subscription. Some might even wonder what it is. Funny! because a decade ago everyone would be clueless about what OTT even is. But times have changed and whether you agree or not 'Netflix and Chill' has now become a household phrase. World cinema has undergone a massive change over the pandemic. Bollywood is no exception.
Pandemic induced coma
In our recent conversation with Sidharth Jain, famously known as the Story Collector, Chief Story collector, and producer of The Story Ink, India's No.1 Book to Screen Company he drew a clear picture of what has transpired after pandemic. The subscriptions for the OTT platforms grew as people wanted to entertain themselves throughout the lockdown. As a result, across the world, there was a high level of consumption. But the sudden rise in demand for the content happened when the supply was at its lowest. So, the audience started consuming and sampling all types or kinds of content. Be it short form, long form, or even trying out different languages. Their tastes have also been impacted a little. It eventually led the audience to consume content at their own convenience. As an aftermath, the audiences become spoiled for choices, as there is no time or place restrictions anymore. The thought of going to the theater is an effort and the content should be compelling enough for the audience to even think about it.
Overpowering of South films in Bollywood
The Hindi audience is doing flirtations with south films. Sidharth also adds that the content space on the Hindi side has gone through a major shift, and we are currently witnessing the effects of that. As the audience now has the choice of what they want to watch and when they want to watch and where they want to watch, they require some binge-worthy, cinematic, larger-than-life films something that hooks them and drives them out of their homes. South films that came after the pandemic was clutter breakers that had larger-than-life novelty like RRR, Pushpa, and KGF as they were far different from the usual Hindi content. It's high time that the production house, creators, filmmakers, and stars rethink how to attract an audience as it is not only the star who is important anymore. If going to the theater and getting nothing in return is the scenario, then there is no way they will waste their money. Therefore, the phase of South Indian cinema giving Bollywood a run for its money will come to end.
Here are a few suggestions for good Southern Films
Kumbalangi Nights: Visuals are amazing; Storyline is engaging; Character arcs are brilliantly done; Life lessons aplenty; Acting is brilliant from so many (then) newbies alongside genuine stars, Dr. Roshan tells us.
I've watched a few films lately from the south industry. There is a tie between the movies Cadaver and 12th man (Both on Hotstar). Pretty detailed story and an amazing climax as well, Lance says.

Jeans movie in Tamil… It has everything grand, convincing story plot, brilliant music, impeccable characters, feel-good moments, love, emotion, laughter, surprises, also the best CGI for an early 90s movie adds Na Per Vekala.

Kamal Hassan – Sadma is one of its kind and the best one, adds Chandresh.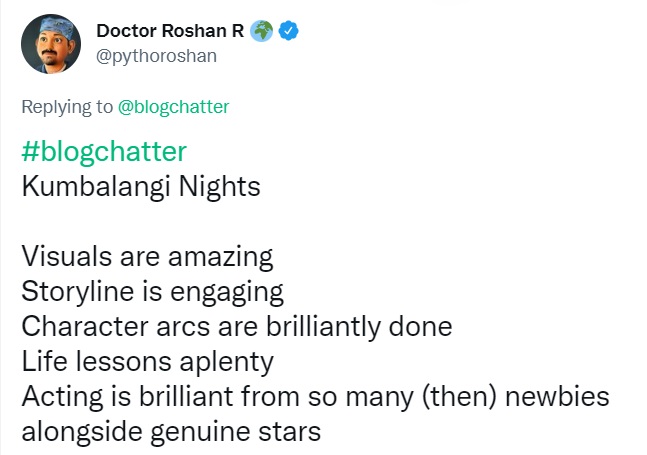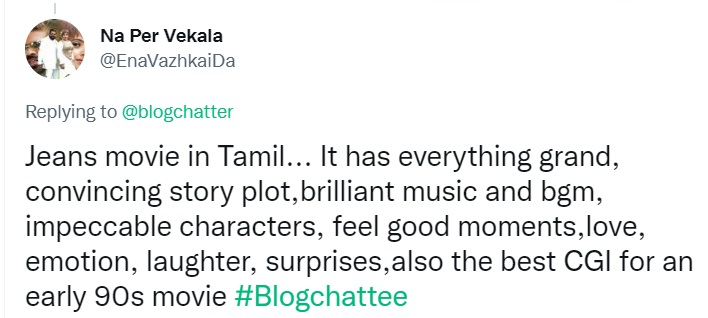 Will this situation persist?
The current state of the industry has been Bollywood's wake-up call. It is definitely not going to continue. Sidharth clarifies, all the movies which were realized after the pandemic, the work would have started maybe at least a year or two before making them a pre-pandemic movie. So, the content shift after the pandemic does not have an effect on those movies. But for all the upcoming ones there might be a chance they would alter this state of Bollywood. And it also takes time for the content creators to catch up with the shift and the audiences. Thankfully, the Box office collection of Brahmastra – Part One: Shiva brings in hope for better times.
Key ingredients for a good movie
At the end of the day, be it Southern films or Bollywood, all that matters is the essence of the story, i.e., the story itself. If the story is good, engaging, relatable, and has phenomenal content along with great storytelling then audiences are bound to flock to theatres irrespective of any controversy or even boycotts. Time and again films like The Kashmir Files, and Gangubai Kathiawadi were critically acclaimed and have proven when a solid story is told with utter conviction it will cast away any kind of hatred. We are in a time where not only the names associated with the movie matters. While discussing with our community What should an engaging story have?
Here are a few interesting answers from them
While mixing of genres is fine, it's unnecessary to forcibly accommodate love stories and song/dance sequences just to 'bring crowds'. It's clearly not working anymore and rightfully so. Focus on the story you want to tell. Keep it as relatable and realistic as possible, as Dr. Roshan says.
Characters should have a connect with audience. This is the key point told by many reviewers., also few twists and turns in the plot will make any movie or series engaging, Na Per Vekala says.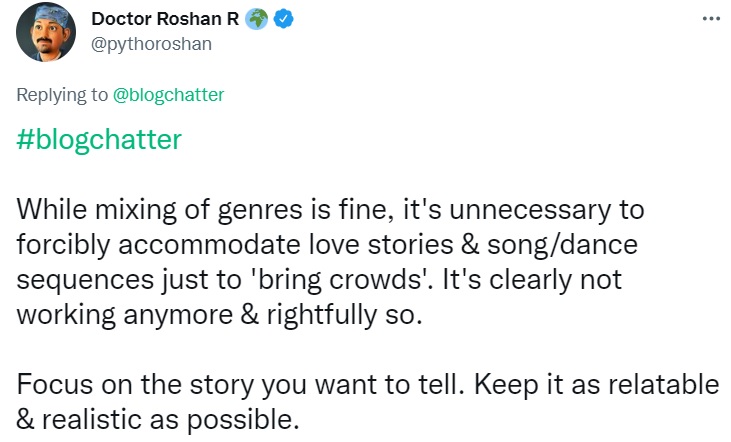 It is imperative that the people in the industry up their game with good content in these times. Irrespective of the industry, in order to get people to come to theaters on a weekend and spend their hard-earned money knowing very well that the movie will soon be released on any OTT platform, is a big challenge. The film should be worth all the effort and must provide a cinematic experience that will make the audience regret not watching them on the big screen. It may be Bollywood today but who knows which industry will fall prey to the OTT space tomorrow?

Maybe this is for good. Because it has changed the way in which people have seen the Indian film industry, regarding them as a separate industry based on language and viewing them through different lenses always putting one above the other. Instead of considering this as competition, it could be a positive change for the Indian Film Industry as a whole. Also earning us our long-due recognition from people across different film Industries around the world.
Catch the entire chat we had here. Also, if you want to share anything on a topic you care deeply for, send us your submission. Here are the guidelines