The hows and whys of blogging
This is a contribution post by Sivaranjini.
---
Blogging is a powerful tool to communicate reliable information in the fast-moving digital era.
To be exact, I started writing on blogger in the year 2012. I did not understand what blogs were and blogging then.
For a long time, it was writing and pushing the publish button. But believe me, it made me happy every time I did so.
I was passionate about self-help as I always say no one in the world can help us like ourselves. So I was always inclined towards reading self-help books.
Initially, words I read became blog titles, and thinking about the words gave rise to blog posts.
I speak about the power of words in my blog posts and podcasts now and then as it may inspire somebody reading or listening to it.
The food process engineer in me wanted my UG major to be another niche on my blog.
Some expert bloggers say it is better to have one niche for a blog. I believe that having to speak about Self help and Food technology alternatively gives a variety to readers on TheThankYouBlog.
This is how a blogging community made me the blogger I am today.
What is blogging without a community like blogchatter?
It would be writing, pushing the publish button and waiting for your website to get chosen by the Google search engine. But honestly, it is not even 1/4th of the work done If you want your blog to grow.
Your blog will be nothing more than a digital diary of information until it reaches the right audience. I want to say, be it a person/or an art or a diamond, or a piece of helpful and reliable information, has to reach the place where they are valued the most. To make this possible for you blogging communities help immensely.
How did I come across Blogchatter?
Four years ago, on a blissful day after a keen web search, I found this community called Blogchatter.
No exaggeration, getting the right audience for your blog is so hard when you are in the starting phase of blogging. Since then, Blogchatter continues to serve as the fuel behind my blog.
From participating in various primetime Twitter chats and campaigns to becoming a part of a supportive community, it continues to be a cherishable experience every time. They published my story for the first time in an anthology, then made me an ebook author and a better blogger. They encourage writing, reading, and reviewing by adding reward points that you can encash after a limit for completing campaigns successfully. They also play the Santa and send gifts and books to their community members.
This blogging community contributes to making blogging more meaningful and purposeful in India.
Like every career in life for blogging, patience must be your key.
There will be great days where there are a lot of visitors, and there will be days your WordPress app shows zero visitors. But nothing should stop you from consistent blogging as that is the only mantra that can help reach the blog fairy who grants you wishes of blog glory!
7 practical ways of how Blogchatter helps you reach the blog fairy.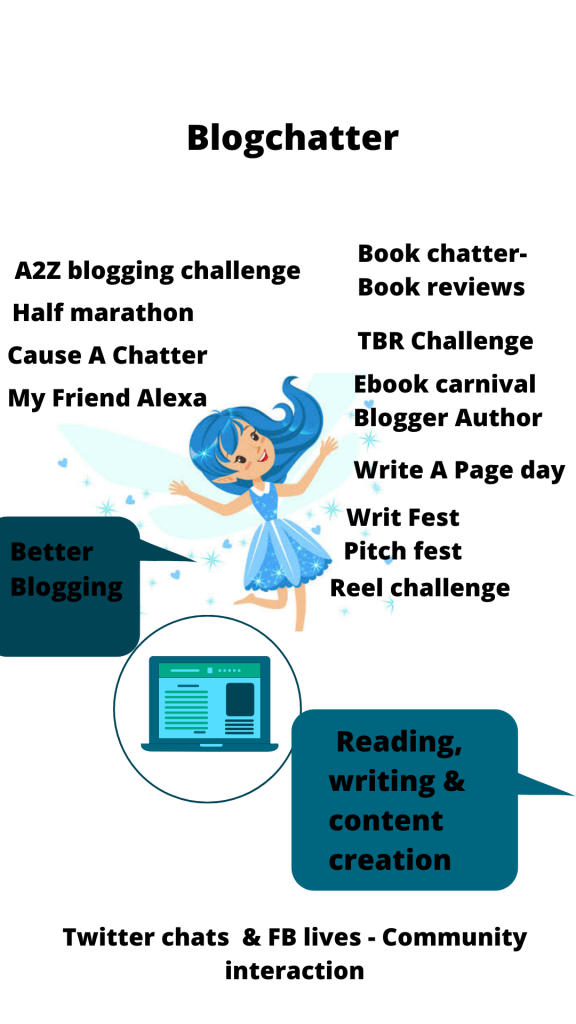 BlogchatterA2Z – This is fondly known as the mother of blogging challenges.
Getting to write every day for April makes it possible to add fresh content to the blog.
The posts written follow the order of the English alphabet. Begining from A on the 1st of April to finishing up with Z on the last day of the month. Here, the magic ingredient is it is compulsory to write a post each day. The participants can compile all the 26 posts and publish them as an ebook at their ebook carnival happening in June this year.
E-Book Carnival
The enthusiastic and helpful A-team at Blogchatter will assist you in making your ebook. They publish and launch the ebook for free at their ebook carnival.
A2Z blogging challenge makes every participating blogger busy. But the daily efforts are worth it and help you get dedicated to writing consistently.
It transforms a blogger into an e-book author.
Half-Marathon is about writing
8-new posts within 15 days of a month. When you go and read posts by others, they also check out your blog. If they find the content helpful, they will come back to read your latest posts.
My Friend Alexa campaign
It is your blog's best friend as it helps improve the Alexa rank of your blog. The participants write at least eight posts and read 10-new blog posts from different blogs.
As participants promptly finished their reading list, they could see their blog getting good traffic. It also helps them to understand their blog better.
CauseAChatter
This is a campaign that adds purpose to blogging by helping bloggers speak about different causes that need attention for the betterment of our society through their writing,
The 15-days reel challenge
This fun campaign helps participants learn to create attractive reels.
Pitch fest
This is to help new authors learn how to pitch their manuscripts to publishers.
Why is the Blogchatter community a boon for every blogger?
In a world where bloggers encounter this question, you blog in your free time, and what do you do for your living?
For blogging, consistent content creation is the first primary block that builds your blog's brand. Blogchatter and team with different blogging challenges would surely inspire, encourage and support you to create better and better content with each passing day. Reward points help every blogger to let them not give up on their blogging dreams.
On-page and off-page SEO, backlinks, keywords, bounce rate, and credibility are the main ingredients that strengthen the content of a blog. Blogchatter, as a part of their campaign, came up with a course- SEO to SMO last year where all the participants learned about the various topics that strengthen the content.
Wrapping up, here are top 7 simple tips that can easily make you a better blogger
1. Fond of reading, writing, blogging, and other forms of digital content creation, but you are searching for ways to skill up? You are absolutely in the right place. Go, sign up and become a part of one of the best blogging communities in India.
2. A blog post is long-format writing so to make reading easy, divide the contents into small paragraphs of 3-4 lines.
3. Your blog title should have the main keyword.
4. Use keywords 5-7 times in a 1000 word long post.
5. Proper structure of the post makes Google show your subheadings as a snippet, as an answer to the search query.
6. Add at least one image with alt text o every blog post to make it more search engine friendly.
7. The adequate space between lines and paragraphs in blog writing makes reading text easier by improving legibility and reading experience.
---
Sivaranjini is a food engineer and business management graduate. She blogs about self help and food technology . You can read her blog thethankyoublogger.com
---