You can love cooking with these 4 simple recipes
We believe that there is no greater love than the love for good food. Food brings us together across diverse cultures, bonds people and helps in the celebration of special occasions. Cooking is a sort of love language that we use to express our feelings for others as well as for ourselves. No matter how bad your day is, good food brings you happiness instantly.
Here are some simple recipes to get you started!
Chili Cheese Omelette
Ingredients – 1 spring onion, a few sprigs of fresh coriander, 2 large eggs, 1 tbsp butter, ½ -1 tsp chopped fresh red chilli , or a generous pinch dried chilli flakes, 25g mild grated cheddar, salt and pepper for taste.
STEP 1 – Chop the spring onion and coriander quite finely and beat the eggs together with salt and pepper. Melt butter in a small frying pan then tip in the onion, coriander and chilli and stir round the pan for a second or two so they soften a little. Pour in the eggs, keep them moving, scraping and tilting edges to cook evenly.
STEP 2 – Settle the eggs back down on the base of the pan, scatter over the cheese and cook for about a minute until the omelette is just set and the cheese has melted.
STEP 3 – Carefully fold the omelette using a palette knife and slide from the pan to a serving plate. Eat while the omelette is hot and the cheese still melted.
Macaroni Pasta
Ingredients – 1 onion, a few sprigs of fresh coriander, 7-8 cloves of garlic , 2 cups of macaroni pasta, 4 tsp schezwan sauce, 1 green chili, a generous pinch of dried chilli flakes and oregano, 2 tsp mayonnaise, salt and pepper for taste.
STEP 1 – Heat 2.5 cups water, ¼ teaspoon salt and ¼ teaspoon oil in a pan until the water comes to a boil.Then add the pasta. Boil pasta on medium – high flame and drain the hot water. Cook pasta until al dente or completely cooked. Set it aside.
STEP 2 – Heat 2 tbsp of olive oil in a pan or wok or kadai. Add 1 small to medium green chilli (chopped), 7-8 small to medium garlic cloves (finely chopped). And finally add the finely chopped onion and begin to sauté on a low to medium flame. Sauté until the onions turn light brown.
STEP 3 – Add 4 tsp of schezwan sauce.Then add the cooked pasta. Gently toss and mix everything very well, so that the red sauce coats the pasta. Add salt, chili flakes, oregano as per taste. Sprinkle coriander leaves and cook for 1 min.
STEP 4 – Lastly, switch off the flame. And add 2 tsp Mayonnaise in the end. Mix well. Serve red sauce pasta hot or warm or cold. This pasta tastes good even when served at room temperature. While serving you can garnish with some grated cheese.
Fudgy Brownie
Ingredients – 6 tbsps butter, at room temperature, cut into pieces, 150 gms dark cooking chocolate, 70% to 75%, finely chopped, 1/4 cup cocoa powder, 1 cup caster sugar, 1/3 cup freshly boiled water, 1 tsp vanilla extract,1/4 cup thick, plain yogurt or curd, 3/4 cup all-purpose flour (Maida), 2 tbsps cornflour/cornstarch, 1/4 tsp salt if using unsalted butter.
STEP 1 – Preheat the oven to 175 C. Line a square baking pan with non-stick baking paper, leaving a little overhang. If using a 'not non-stick baking paper', you will need to lightly grease it.
STEP 2 – Add the butter, chocolate and cocoa to a heat-proof bowl placed over a pot of simmering water, taking care that the bowl isn't touching the water. Stir often till melted and smooth. If a few small lumps of chocolate remain, take the bowl off the heat and stir to melt them completely. Set aside to cool for a few minutes.
STEP 3 – In a mixing bowl, combine the sugar and hot water, whisking till the sugar has dissolved. Stir in the vanilla extract, then pour in the melted chocolate mixture. At this stage both liquids will be warm so they'll be easy to stir together with a spoon or whisk, until you have a smooth mixture.
STEP 4 – Now stir in the yogurt until incorporated, then sift in the flour, salt and cornstarch. Fold gently to combine into a smooth, thick batter, using the whisk to break up any flour lumps. Spread the batter into the prepared pan, smoothening the top and making sure it's even all over.
STEP 5 – Bake for 25 to 30 minutes, until you see a crust has formed on top and a toothpick poked in the center comes out with moist crumbs but no wet batter. If you bake it till the toothpick is completely clean, the brownies will be dry and over-baked. Allow the brownies to cool completely at room temperature before lifting them out of the pan.
Veggies Wrap
Ingredients – 1 wheat tortilla (Roti/Chapati) , cheese slices, 1/3 cup lettuce (shredded), 1/2 tomato (sliced), 1/2 cucumber (sliced) 1/4 large onion (sliced), 10-12 tiny cubes of paneer, olives (optional) , jalapenos (optional) , Chili sauce, mayonnaise sauce, mustard sauce, salt and pepper to taste.
STEP 1 – Place the cheese slice pieces onto the tortilla and microwave it for 30 secs or until the cheese melts.
STEP 2 – Add all the veggies and paneer, drizzle the sauces, sprinkle salt and pepper on top according to taste in a bowl and mix well.
STEP 3 – Place the mixture on top of the cheese in the tortilla. Making sure that all the filling is in the center of the tortilla, wrap it up carefully, tucking in all edges. And a healthy tasty wrap is ready!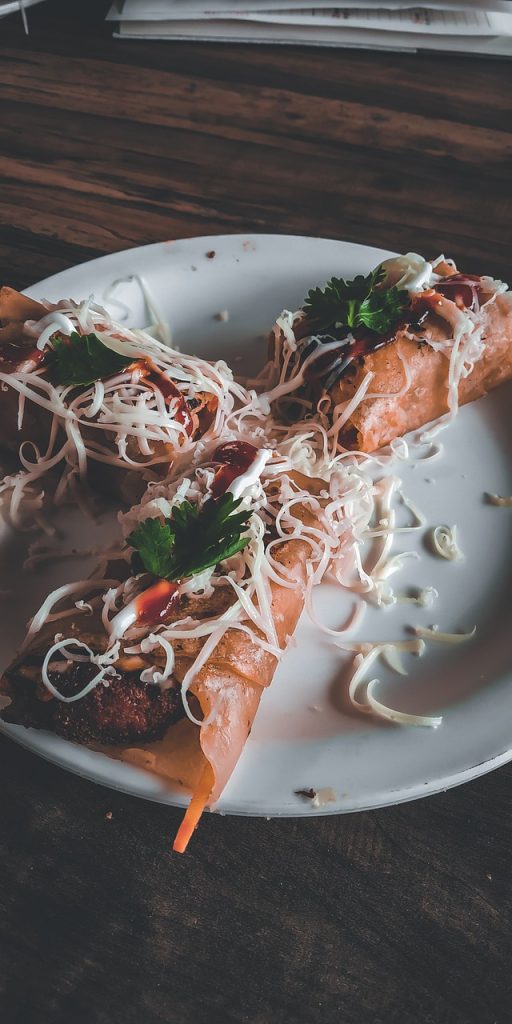 Cooking is a form of art that actually fills your stomach and also makes you happy. Remember that the best thing you can do when you are having a bad day is to bake a brownie and have it all by yourself! If that is not self-love, we don't know what is!
Try these recipes out and do let us know if you like them!
If you want to share information around something, write to us and you can be featured on BeStorified.