Only a few days to go before the grand #BlogchatterA2Z Challenge begins! We noticed that there are a lot of burning questions around the community. That is why we came up with this post, to clarify all doubts. We tried to cover most of the questions. If you still have some, feel free to comment, mail (hola@theblogchatter.com) or tweet to us.
ALL THE FAQS WE CAN THINK OF!
Q1. What is the confirmation once you register for #BlogchatterA2Z ?
You receive a copy of the Google form you submitted. That is the confirmation that you are registered.
Q2. What is the last day to register for #BlogchatterA2Z?
27th March, 2020.
Q3. Is there any fees for #BlogchatterA2Z Challenge?
No, there isn't.
Q4. Is a specific image required for theme reveal?
There is no compulsory image required. You can use what you feel best.
Q5. Is it mandatory to have a theme?
No it isn't. We will be writing 26 posts too and our theme is Better Blogging. You can either have a theme or write 26 posts with no theme.
Q6. What is the last day for theme reveal post?
31st March, 2020. The linky closes after that.
Q7. Do we have a reading list for #BlogchatterA2Z ?
We don't have a reading list for this challenge. However, it is a good time to get to know other bloggers and find some amazing content.
Q8. Writing one post a day, is that a fixed rule?
Ideally writing one post per day according to the corresponding letter for that day is recommended. Any other way will make it hard to catch up.
Q9. Do we have to write daily?
One post everyday except on Sundays. Take that day to cool off and plan!
Q10. Is reading and commenting on other posts mandatory?
It is not, but that is how you network. So do check out posts of other bloggers and you'll definitely find something you like.
Q11. Where to link up posts?
Each post that we write will have a linky in which you can link your post for that letter. This linky will be open for 3-4 days each.
Q12. Is it okay to write more than one post in a day?
You can, but linkies will be open as per schedule.
Q13. Any hashtags to be used?
Yes! Don't forget to use the #BlogchatterA2Z while sharing your posts on social media. Using it in your post is a good idea too.
Q14. Will there be other activities too, apart from writing one post per day?
We will have some fun activities. You'll know once the challenge begins.
Q15. Do we have an exclusive group for #BlogchatterA2Z participants?
Yes, we will have a Facebook group that will be open soon.
Q16. Does #BlogchatterA2Z have a certificate once completed?
No, the #BlogchatterA2Z Challenge alone doesn't come with a certificate. But it will win you exclusive goodies from our side for successful completion of challenge.
THE CALENDAR THAT WILL KEEP YOU COMPANY DURING #BLOGCHATTERA2Z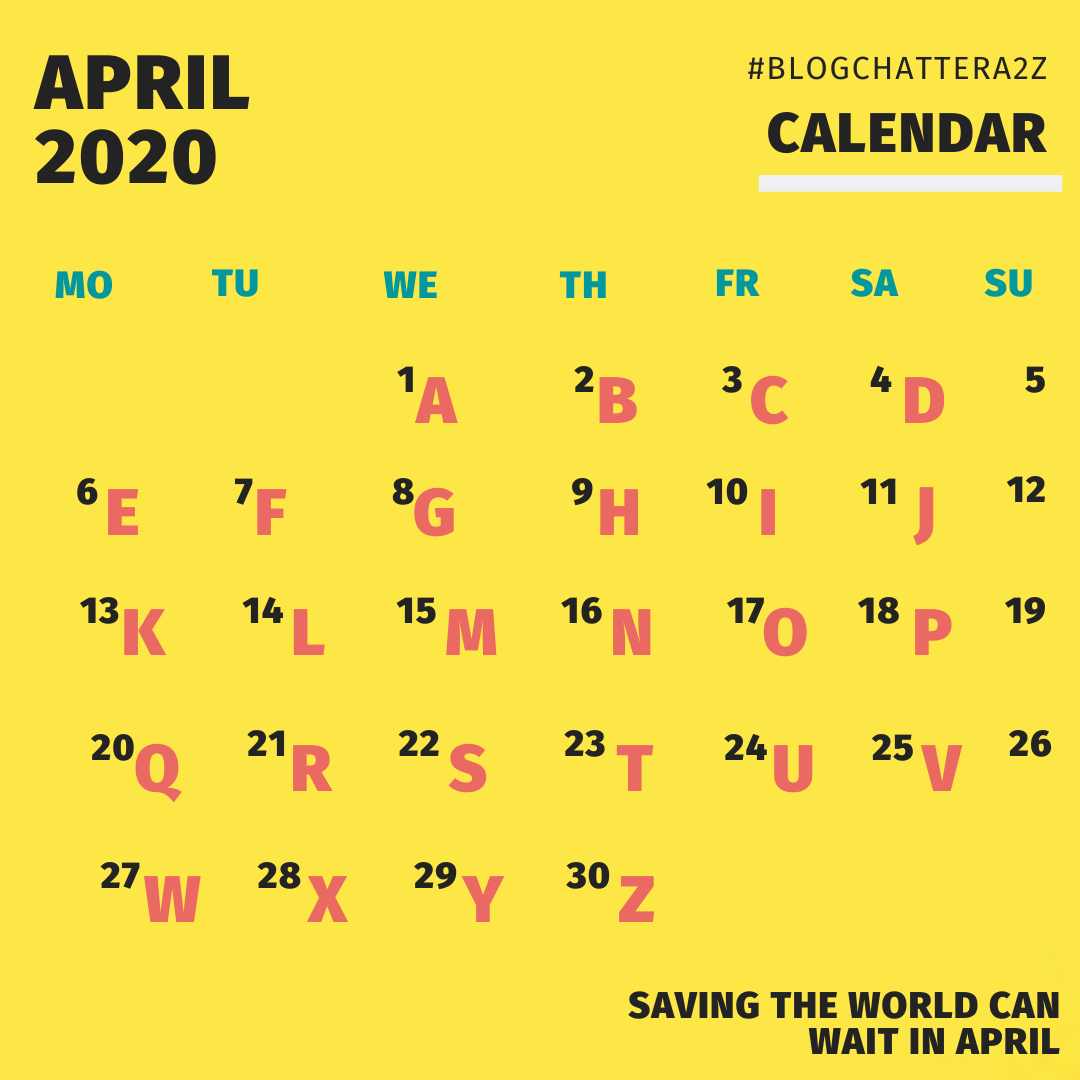 We will be posting our A2Z posts according to the above schedule. Save the calendar as it will comein handy. We hope this covers all the FAQS, but if there are still questions, you know where to find us!