Vinayaka Chaturthi and Tamil delicacies
This is a contribution post by Anuradha Sowmyanarayanan
---
The birthday of elephant God, as children fondly call falls this year on August 31st, Wednesday. This day is celebrated world- wide in many different ways and for many number of days. In Tamilnadu it is celebrated as Vinayaka Chaturthi.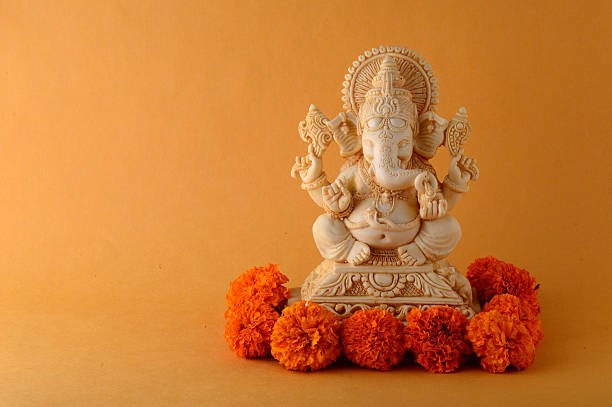 What makes it different in Tamilnadu?
Paalum theli thenum paagum paruppum ivai naangum
Kalandhunakku naan tharuven – kolam seith
Thungak karimugatthuth thoomaniye nee enakku
Sangath thamizh moondrum thaa.
I shall offer you the mix of four items namely milk, honey, jaggery and dals.
Oh! The elegant elephant-faced Lord! Vinayaka! Please bless me with the language Sangat Tamizh endowed with three forms – Scientific (Iyal), Music (Isai) and Dramatic (Naadakam).
This marks the speciality of the Vinayaka / Ganesa / Pillaiyar Chaturthi celebrations in Tamil Nadu. Here the prayers are offered in return to bless them with the classical Tamil language. People seek his blessings mainly to learn and master their mother tongue Tamil.
The above mentioned verse of the Saint poetess Auvvaiyaar along with Vinayagar Agaval are considered as the best poems on Pillaiyar and taught to children from a very young age.
The famous lyrics Mudhaa karaattha modhakam from Ganesa Pancha Ratnam written by Sri Adi Sankarachaarya is another sloka that finds a definite place in the Vinayaka Chaturthi pujas.
His temples are built where ever a peepal tree and a pond are found together- a simple and cool place to offer prayers to the Lord.
How are the celebrations done?
The Lord Ganesa is popularly addressed as Pillaiyar in Tamil. Here the Pillaiyar is brought home only on the day of puja. Some just buy the mud/clay and they themselves prepare the murti/idol. It is usually just pure clay. No colours or paints will be applied. Pillayar, is synonymous with a heavy build, a huge tummy and short height. The Lord will be decorated with a sacred thread, towel, garlands, flowers, vibhuthi, chandan and an umbrella. Apart from these, this little thing – Kundhu mani (Rosary Pea) plays a bigger role in completing the dressing of the Lord as it is placed for his eyes.
Every street will have a Pillaiyar either at the front or in the end. The whole street is decorated with lights and a pandal (canopy). The celebrations will go on for three days. On the fourth day the Lord is immersed in the sea, lake, and pond or in the well.
These days many prepare at home eco-friendly Pillaiyar with distinct mediums and their creativity knows no boundary. Navadhanyam Pillaiyar is a worth watching sight and our eyes will not feel enough or tired watching the Lord for long time. It will be such a wonderful idol. New age Pillaiyars are countless in the market. Pillaiyar with mobile phones, playing mrudangam and reading books and playing flute are a few to name.
In temples also scores of events are arranged and organized on the occasion of Vinayaka Chaturthi. Moonjuru / Mouse is the vehicle on which the Lord is held on a procession in the evening outside the temple. Trichy's Rock fort temple (Uchhi Pillaiyar Kovil) and Pillaiyarpatti are the two famous temples of Lord in Tamil Nadu.
Lord Ganesh here in Tamil Nadu is ready to bless both the Saivites and the Vaishnavites. The Saivites decorated him with three lines Vibhudhi (Divine Ash) horizontally and the Vaishnavites with Thiruman (Chandan-tilak) vertically.
Other than this day Sankata Hara Chathurthi is one other special day which falls once in a month. The fourth day of the lunar days is celebrated as the day meant for the fasting and prayers done to the Lord – the destroyer/ remover of obstacles and hindrance. Special puja and abhisekams are also performed. Coconut is offered to the Lord and is considered the best offering.
Other interesting things associated with the name 'Pillaiyar'
Pillaiyar erumbu (black ants): These black ants are never killed as they are the friends of the Lord, elders say that they don't bite, or create rashes on our skin. They are simply too good, eat sweets and sugars and snacks. If they find many black ants together, elders at home put a handful or some amount of white rice near them and they too collect it all, one by one and leave the place.
Pillaiyar Thundu (Towel): is a very small piece of cloth measuring about half metre. It is a white coloured towel with Orange and Red borders. It is used only for Lord Ganesa.
Valampuri Pillaiyar is a unique one in which the Lord Pillaiyar's trunk (ThumbikKai) will be turned towards or will be facing towards right hand. It's a rare one and considered very auspicious to have one at home.
Idampuri Pillaiyar in which the trunk is facing towards left hand and this one is found widely in all parts of the world.
Pillaiyar Chuszi is a symbol " ௨" which is put forth before starting any written work. It is believed that the work will be highly successful and completed without any hindrance.
Pudichi vecchaa pillaiyar means that one when holds something, the shape it turns into resembles pillaiyar. The turmeric ball is normally preferred as Pillaiyar in marriages and other functions at home.
Vecchaa pillaiyar, vazhicchaa saani means that if any idol of Ganesa is not available, then wet cow dung is used for making an ordinary form of Pillaiyar before starting any puja. After that it simply becomes cow-dung again.
Pillaiyar Kuttu while puja is performed, chanting of slokas, singing of bhajans all gets complete only with the prayer and action of doing sit ups by holding ears with cross hands and kuttu (with folded fists, hitting the head). These two actions can be done any number of times.
Mango story: You might have heard this many times narrated by elders to children. This takes the first place among the many stories in the state. The Lord emphasizes the importance of respects to parents and the whole world is at their feet. The mango story though it seems simple is thought provoking too. You can read it here.
There are whole lot of books, films cartoon characters and bhajans on Lord Ganesa. He is omnipotent and ready to bless his devotees in any form you worship him.
On this day, modak (modakam), fruits, kheer/paayasam and many number of dishes are prepared and offered to Lord. Among them sundal is the main prasaad (prasaadam) distributed to devotees in the Pillaiyar temples every day.
Here is a recipe of Sundal:
Soak white pea overnight.
Cook it in the pressure cooker and drain the water.
Take a kadaai (wok), pour oil, add mustard seeds, urad dal, chana dal, green chillies, red chillies and fry till they turn golden brown.
Now add grated ginger, cooked white pea, turmeric powder, asafoetida and salt.
Finally add grated coconut, mix well and serve!
Easy, isn't it? Try the recipe this Vinayaka Chaturthi.
---
Anuradha Sowmyanarayanan is a tutor, blogger, poet, book reviewer and passionate reader. Her interest in reading and writing paved the way for her blog in 2016. Book Food Language is an amalgamation of the three elements.
---
If you want to share anything on a topic you care deeply about, send us your submission. Here are the guidelines.