Navratri- the 9-day festival of Golu in Tamilnadu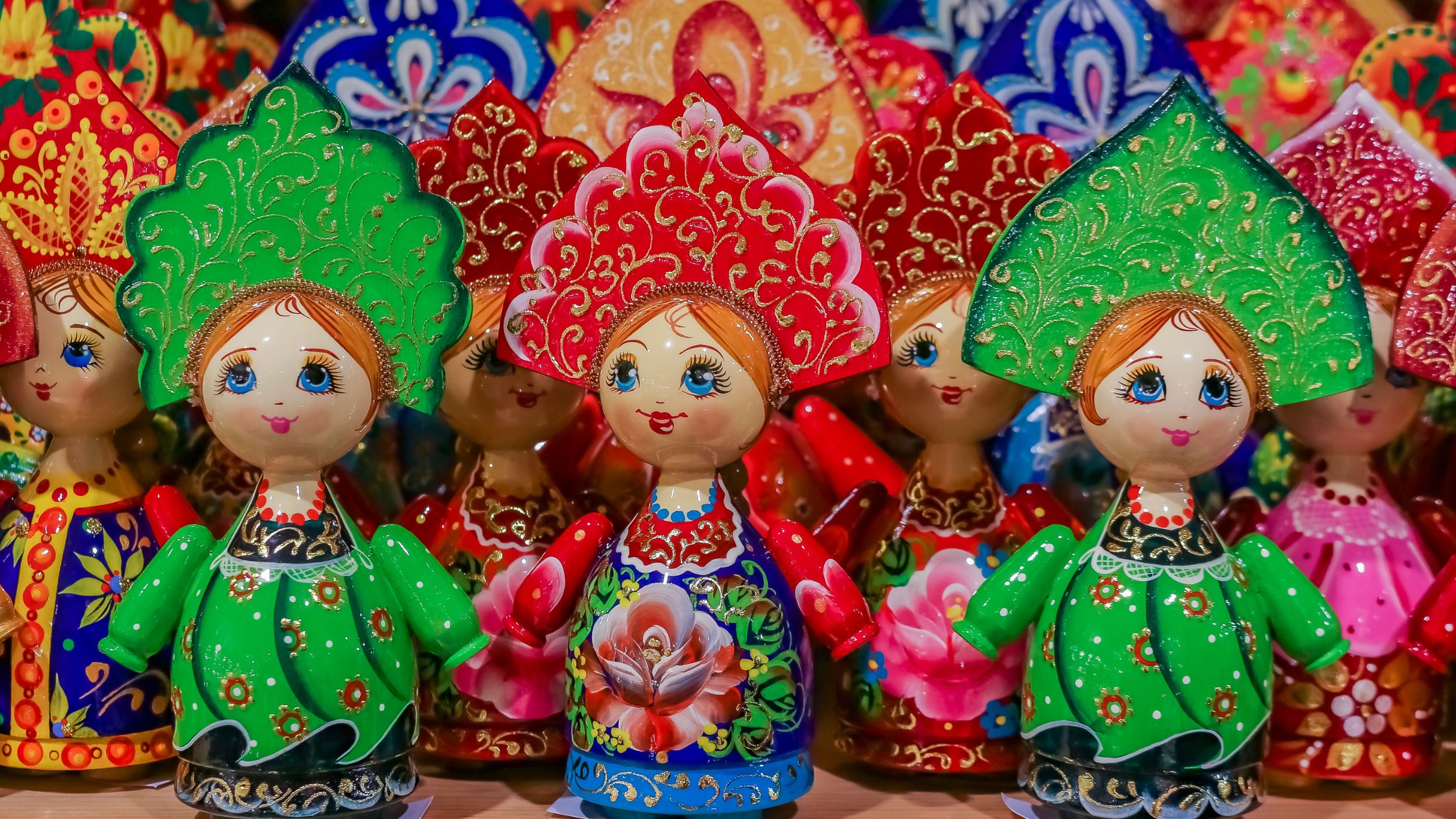 This is a contribution post by Anuradha Sowmyanarayanan
---
Navratri is a festival of nine days celebrated with great pomp and gaiety across the country.  This year it starts from 26th September and ends on 5th October.  It is a festival that demands a lot of preparation especially in the form of shopping! Here's how it is celebrated in Tamilnadu.
A festival for three Goddesses
Navratri begins with the second day of the new moon day of the Tamil month of Purattasi (September 15 – October 15) and ends on the 10th day of the new moon.
Everything goes with number 9 in this festive season starting with nine days festival, nine kanyas, nine variety of sundals, nine rows or steps of dolls.
Navratri is dedicated to Tri Murthi's Maha Lakshmi, Saraswati and Parvati. Here in this festival kanyas (girls in the age group of 5 to 12) are worshipped as a form of the Tri Murthi. Nine kanyas are invited home on any one day during this festival. Many prefer to do the Pooja either on Tuesday or Friday. They wash the feet of the kanyas and decorate them with turmeric and red paste. Then they will be offered food and will be send off with gifts like dress, bangles, bindi, hair clips and other accessories.
What is a Golu?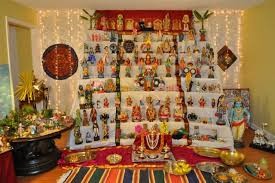 People arrange dolls in household in nine steps or rows using wooden planks or iron stands. All varieties of dolls were displayed in a pattern with huge decorations of lightings and other paper works. Every year a new set of dolls are bought for this festival and it is added to their collection. Some households carry the collection of their ancestors too. There is no limit to the number of dolls.
Mud, clay, paper, glass, porcelain, metal and what not every new variety of dolls finds place in this Golu – the term used to describe the arrangement of dolls at home during the Navratri. It is derived from Tamil word Kolu Veetrirutthal means to be present. Wide variety of rangoli is drawn before the Golu and these days that too in different mediums.
These dolls will be on display on all these nine days. People will invite neighbours, friends, relatives and all their contacts without any differences of caste and creed but only ladies and children.
In the evenings people visit each other home to see the Golu and they will be offered sundal one variety each day, (1. White pea, 2. Chickpea-white, 3. Chickpea-Brown, 4. Red Cow pea, 5. Black eyed pea, 6. Green pea, 7. Groundnut, 8. Chana Dal and 9. Lima Beans or Butter Beans – for nine days.)
In this occasion the visitor must sing a song, krithi, bhajan or slokas in front of the Golu. It's a ritual and in return to it they will be given Thamboolam (a pack of goodies comprising of fruits, flowers and other gift items apart from sundal.) Children prepare well in advance for this occasion and present different krithis at each home. All will be wearing traditional Pavadai, Chattai or Pavadai Dhavani (Lehenga, blouse or lehenga choli)
The preparation for the Golu starts at least a week before the festival. Many people will take up painting or repainting the old dolls at least three months in advance.
Many create thematic presentation in the Golu. Parks, zoo and many tourist spots are also created next to the nine steps of dolls on the floor. Fountains, hills, cricket stadiums and many trendy things find place in the contemporary Golus.
Competitions are also being conducted by religious establishment and cultural associations to encourage the tradition and to spread the importance of learning fine arts. People thoroughly enjoy and make new friends and look forward to the next year with eagerness.
Days dedicated for Tri Murthi
The nine days are equally divided among the three deities. But on the Ashtami day, Special Pooja are performed for Goddess Parvathy, on the Navami day for Goddess Saraswati called as Maha Navami and on the day of Dasami – Vijaya Dasami – Maha Lakshmi is offered Pooja.
On the Saraswati Pooja, books, pen, pencils and other stationery items are kept in the feet of the Goddess Sarsawati and prayers are offered in return of gaining good skill in the chosen subjects. Fine arts students and teachers perform sloka chanting and other special Pooja and lay their instruments to rest on that day as a way of seeking the blessing of the goddess. No writing, reading or playing instruments is done on that day.
On this day Ayudha Pooja is also performed where in the electrical and electronic equipment, appliances are also cleaned, dusted and Tilak and Aarthi are performed for them too.
In Tamil Nadu two wheelers, cars, buses, trains are also decorated with colour papers, plantain leaves, flowers, and balloons on this day and pray for the smooth running of the same.
On the day of Vijaya Dasami new admission are given in both school, and other fine art institutions. It is considered as an auspicious day to start a new venture.
Abundance of festivities
All the nine days will be of complete celebrations houses decorated, widespread food preparations and endless Geet- Sangeet.
Temples and concert halls have back to back programs of music, dance and drama. Pravachanam (discourses) too will take place at various venues. Schools and other institutions will remain closed on the last three days of the festival.
Textile showrooms, jewellery shops and fancy shops will be opened for long hours before and during the festival. Sweet shops and super markets really have a great time with shoppers buying things in bulks.
Markets will be loaded with huge stock of Mosambi fruit (Sweet lime) and coconuts. People distribute these among their circle of well- wishers. In addition to these a mixture of puffed rice, poha, jaggery and fried gram is made into a packet and distributed widely.
Sweet Puttu- A special preparation during Navratri
Nine variety of Sundals marks the Navratri but in some regions of Tamil Nadu Sweet Puttu finds a tasty place and it is prepared in only those household who have a tradition of preparing it in the family.
Steps to prepare Sweet Puttu
Wash and soak rice for 1 hour. Drain the water completely and spread it on a cloth. After an hour, fry the rice on low heat until it turns golden brown. Allow it to cool. Then powder the rice to a slightly coarse consistency.
Add boiling water little at a time to the rice flour. The flour should be slightly moist. Then steam the flour for 15 minutes in a steamer or an idli cooker.
Once steamed, transfer the flour to a plate. Let it cool a little and grind it in a mixer just for a second to avoid lumps. The prepared item is called puttu.
Add just enough water to the jaggery and boil until it reaches a hard ball consistency.
Add the jaggery syrup to the steamed puttu little at a time and mix it well.
Heat ghee and fry cashew nuts and grated coconut separately and add to the puttu. Add cardamom powder and mix it well.
Sweet puttu is ready to serve
Try this Navratri sweet dish and enjoy the festive season.
---
Anuradha Sowmyanarayanan is a tutor, blogger, poet, book reviewer and passionate reader. Her interest in reading and writing paved the way for her blog in 2016. Book Food Language is an amalgamation of the three elements.
---
If you want to share anything on a topic you care deeply about, send us your submission. Here are the guidelines.