March at Blogchatter is all about books, writing, authors and publishers. That's the essence of #BlogchatterWritFest and we are mighty proud as we step into Season 6.
Our writing festival began in the online space, even before going digital was fashionable or absolutely the only option (as the pandemic played spoil sport with nearly everything). And we were clear from the beginning that we wanted to go beyond being a literary festival. Promoting a reading culture in India is one of our objectives and our #BookChatter track and #CauseAChatter book donation drives run through the year. Through our writing festival, we wanted readers to be able to talk to published writers and in the ensuing conversations, talk about writing and honing the craft.
Of course, it's not all learning. We organise quizzes, fun conversations, reader-author interactions and giveaways!
Season 6 of #BlogchatterWritFest
This year, our writing festival is as exciting as always with the emphasis on readers connecting with authors. And yes, that's our tagline for this year: Connecting Readers with Authors.
We have planned a series of sessions with a panel of authors so that we get multiple perspectives. There are also exclusive sessions where we talk about the writing craft in depth. We would have forms so that you can sign up to be part of these. Keep an eye on the announcements so that you don't miss the last date to register.
Calendar of Events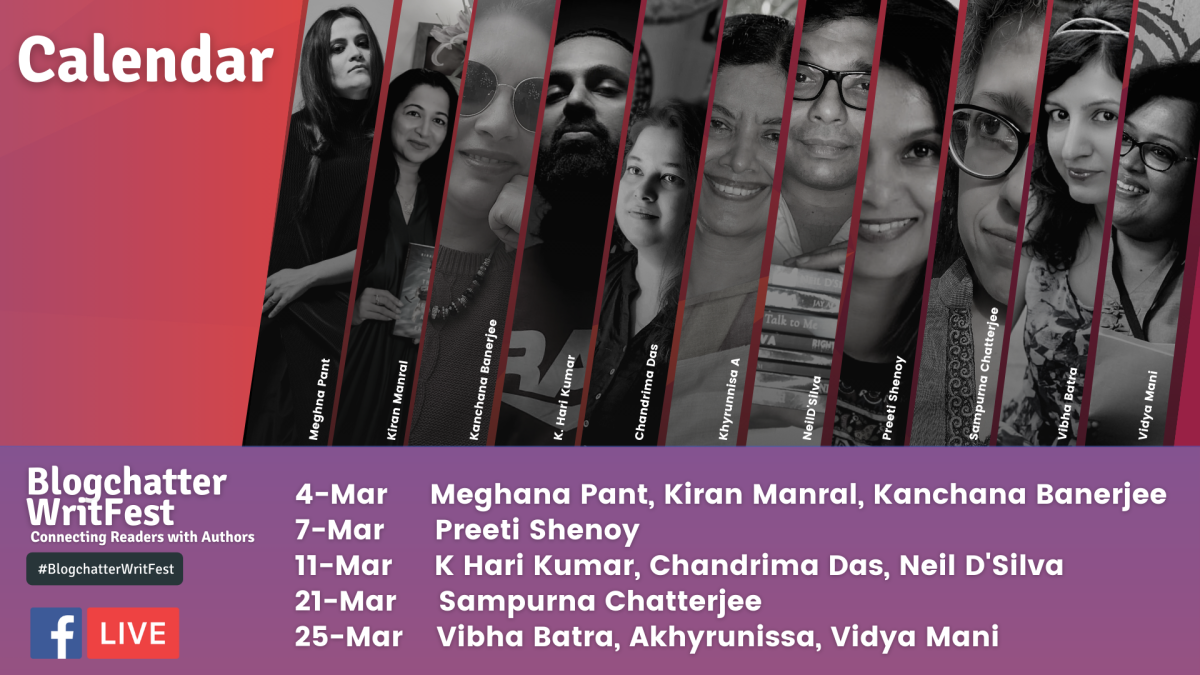 Authors
Meghna Pant
Meghna Pant is a multiple award-winning and bestselling author, screenwriter, journalist and speaker. She's been felicitated with various honours for distinguished contribution to literature, gender issues and journalism, including the Bharat Nirman Award, Frank O' Connor International Award, Commonwealth Short Story Prize and Laadli Media Award. She's published eight books.
Kiran Manral
Kiran Manral is a writer, author and novelist based in Mumbai. In previous avatars she has been a journalist, researcher, festival curator and entrepreneur. She has received multiple awards and has many published books to her credit.
Kanchana Banerjee
Kanchana Banerjee is the author of 3 books, A Forgotten Affair, Nobody's Child and Eye on You. She has been a freelance writer for leading publications and reputed MNCs. Currently, she's a full-time author and lives in Gurgaon with her family.
Preeti Shenoy
Preeti Shenoy, among the highest selling authors in India, is on the Forbes longlist of the most influential celebrities in India. Her work has been translated into many Indian languages. Preeti is also a motivational speaker, and has given talks in many premier educational institutions and corporate organisations. An avid fitness enthusiast, she is also an artist specialising in portraiture and illustrated journals.
K. Hari Kumar
K. Hari Kumar is a novelist and screenwriter. He is the author of books India's Most Haunted and Dakhma. He is working on a Hindi horror web series for a leading OTT platform and a Malayalam film.
Chandrima Das
Chandrima Das has had a decade-long career in management consulting that spanned from Wall Street to rural Bihar. She was a SouthAsia Speaks fellow in 2021. Her web-comics and articles have been featured in various publications. She has also performed at live storytelling events. She has written 2 books.
Neil D'Silva
Neil D'Silva has 12 books to his credit with leading publishers. He has won screen adaptation deals on four of his books. He has been named as one of the Top 7 Indian horror writers to be read by UK's DESIblitz magazine. He is a writing mentor and conducts workshops at prestigious institutions.
Sampurna Chattarji
Sampurna Chattarji is a writer, translator, editor and teacher with 20 books to her credit. These include a short story collection about Bombay/Mumbai. Her poetry has appeared in Indian and International journals. She has been part of many international poetry translation workshops.
Vibha Batra
Vibha Batra is an award-winning bestselling author, graphic novelist, advertising consultant, poet, lyricist, translator and creative writing mentor. She has published 19 books. She writes across genres and is the recipient of several honours and awards.
Khyrunnisa A.
Khyrunnisa A. is an award-winning writer of children's fiction and also writes for adults. She created the popular comic character Butterfingers for Tinkle and authored the hilarious Butterfingers series of books for older children. Khyrunnisa worked as Associate Professor of English at All Saints' College, Thiruvananthapuram, and is now a full time writer.
Vidya Mani
Vidya Mani is a children's writer and editor. Her content and design studio Melting Pot creates children's books and magazines for publishers and NGOs. She is one of the founder-members of Funky Rainbow, a travelling bookshop and book consultancy, committed to bringing books and children together in exciting and innovative ways.
Books Galore in Giveaways
As always, there are giveaways for every session. Go ahead, share the details of sessions on your socials, attend, comment, ask a question, in short, engage to be eligible to win books.
Don't forget to follow the hashtag #BlogchatterWritFest on all channels!